Brong Ahafo Records Monumental Reduction Of 55% Fire Cases In 2017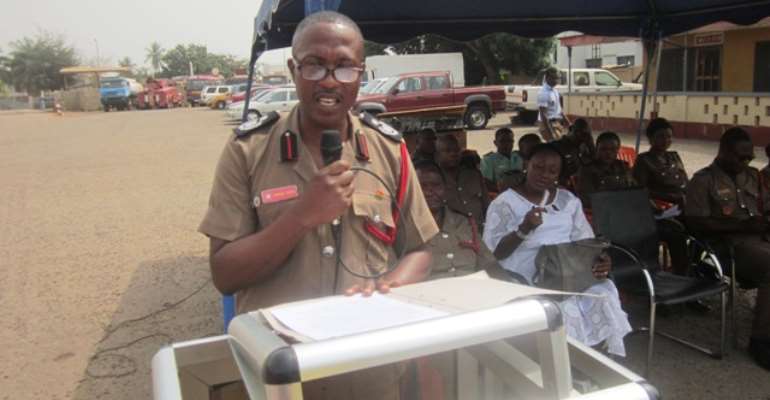 Fire cases in the Brong Ahafo Region have reduced monumentally.
Speaking at a Thanksgiving Service in Sunyani on Friday, December 29, the Brong Ahafo Regional Commander of the Ghana National Fire Service, Assistant Chief Fire Officer (ACFO) James Owusu-Adjei disclosed that three hundred and fifty four (354) fire incidents were recorded this year.
According to him, fire cases recorded in 2016 (last year) stood at sixh hundredand thirty six (636) representing a monumental reduction of 55 percent fire cases.
"All these and many more point to the fact that, God has been very good to us this year. There could have been some shortfalls in our lives but the very fact that we are all alive and kicking lends credence to the fact that, God has indeed been very merciful to ust thisyear and it is therefore imperative for us to give Him, His deserved thanks and praises this lovely day," he said.
ACFO Owusu-Adjei commended officers and personnel of the command for their selfless contributions and good performances.
He added that the command would not have been performing at such a high level if not for the seriousness and efficiency attached to their duties.
The Brong Ahafo Regional Fire Commander urged all officers andp personnel to actively take part in fire safety education.
"Fire safety education should not solely be done by the safety department. We all have a duty anywhere we happen to find ourselves including our churches, neighborhoods, the market, and our friends among several others. I believe that if we all play our part, the command will further improve upon our goal of reducing fire outbreaks to the barest minimum," he stated.