35 Undergo Training To Fight Fall Armyworm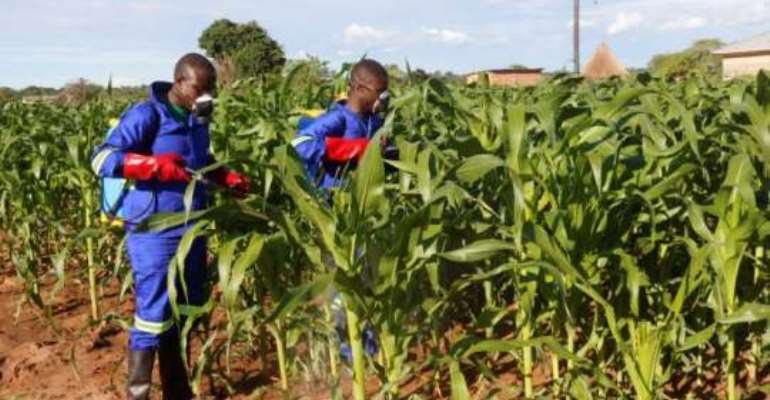 The Asante-Akim South Municipal Directorate of the Food and Agriculture Ministry (MoFA) has taken steps to promptly and effectively tackle any fall army worm invasion during the coming farming season.
As part of this it has intensified the engagement with farmers to educate them on ways to help reduce the destruction of food crops by the army worms.
It has also held a day's workshop to train 35 extension officers, national service personnel and other auxiliary staff of the ministry to fight future infestation.
Mr. David Obeng Dauda, Municipal Officer in charge of Plant Protection and Regulatory Services, underlined the need to strengthen the skills and capacity of extension officers to deal with the pest.
The pest usually lay their eggs beneath the leaves of plants to avoid detection and he said that was why it was important to aid farmers to do proper and thorough inspection of the leaves.
He added that the inspection should be done seven days after planting, to verify if there was pest infestation for early application of chemicals.
Farmers with smaller farms could crash the eggs after wrapping their hands with polythene bag as a first measure before they sought help from the extension officers.
He advised those with large acres of farm to immediately report any detection to the MoFA office for prompt action.
He reminded the extension officers to teach farmers on the safe use of chemicals - the right dosage, to achieve maximum outcomes.
Dr. David Anambam, the Municipal MoFA Director, said the training was to adequately equip participants to fight the fall army worm.
He indicated that the municipality had its fair share of the devastation caused by the worms, this year, and therefore the need to put measures in place to avoid the repeat of crops destruction, the coming year.
He urged the participants to make sure that farmers benefitted from their knowledge acquired, to adopt best practices to protect their investment.
GNA
By Yussif Ibrahim, GNA