Akufo-Addo Isn't Scaring Even A Fly Here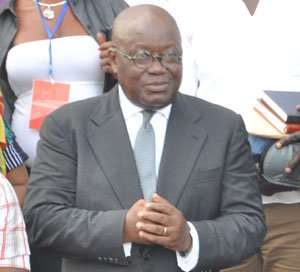 He said a lot about fighting corruption and made Ghanaian voters put him in power at Election 2016. Thus far, he hasn't done anything to confirm his boasts. Now that all ears are stopped to such boasts, here he comes with the weirdest aspect of it all:
"… his government will fiercely pursue corrupt public officials in the coming days…. (See Let nobody say it is political trial - Akufo-Addo vows to prosecute corrupt public officials ) or that "Ghanaians will soon witness the real corrupt people in the country who have rigged the nation of its resources." (See Ghanaians will see the real corrupt people in 2018 - Akufo-Addo assures ).
Gibberish. Absolute humbug coming from someone who should be the first to bow his head in shame at happenings under his watch. Despite his whitewashing all those happenings and dismissing them as vain attempts by the NDC elements to tarnish the image of his government and its appointees, much exists to prove that he was really talking rubbish on the occasion. And that rubbish won't scare even a harmless fly. Here is why.
Akufo-Addo is behaving and talking loosely as if he doesn't know the history of Ghana as far as perceptions, allegations, and accusations of corruption in public office are concerned, Those of us who have been keenly monitoring events and juxtaposing them with happenings under previous governments won't be deceived by his gibberish as far as fighting corruption is concerned.
Nkrumah was tagged as corrupt y his enemies operating under the umbrella of the United Party (the very political foundation of this despicable NPP in our time). What did they find out about him? Nothing. Nkrumah had no personal property from his political exploits in all the 15 years that he ruled Ghana. The Commission of Inquiry set up by his detractors found nothing to confirm their stupid suspicions.
Let's flip the coin here to say that Commissions of Inquiry were established at the "death" of every government in Ghana in pursuit of evidence with which to pin down government functionaries. It happened all over the years until Rawlings stepped in to exercise "unprecedented revolutionary action". His establishment of all modules for fighting corruption exacted pain and disaster, which turned out to be the fundamental issue to catalyze stiff opposition against him by the elements that would turn out to be the NPP cabal.
Just for the records, let's replay the tape on how Rawlings sought to fight corruption. He established novel institutions such as the Citizens Vetting Committee (whose first chairman, Major Adutu himself got caught up in the net and was severely punished); the Public Tribunals that dealt heavy blows to many, including coup plotters and their financiers.
The Rawlings government confiscated assets of those fingered as corrupt, whether in the public or private sector. Most faced the firing squad. You are free to bring back to mind the fate of the military officers who ruled Ghana and suffered at the behest of Rawlings' "unprecedented revolutionary action".
In truth, all that happened under Rawlings might appear to be the foundational step toward stemming corruption in Ghana. But it hasn't proved to be so. Many drastic actions taken by the military government caused much pain and suffering for the ordinary Ghanaians seeking to eke out their livelihood by any means possible. Unfortunately, Acheampong's "Kalabule" muddied the waters. The fate of Makola women (especially with the physical punishment given most despite the destruction of Makola Number One—which would eventually turn out to be the Rawlings Park).
Much more happened to the extent that those not directly involved in "money business" suffered the scourge of the purge that Rawlings initiated. Pastors even got caught up in it all.
Folks, let's not go any more down the memory lane to rub salt into the wounds of victims and their relatives wishing that things hadn't gone the way they did under Rawlings.
What happened after all? Rawlings left power (not before some of his henchmen were hauled before the CHRAJ on allegations of corruption and found guilty, but whom Rawlings openly exonerated. Isaac Adjei Marfo, Ibrahim Adam, P.V. Obeng, and Colonel Osei Wusu,,etc. on my mind here) and Kufuor stepped in to exercise his own brand of "justice" in an attempt to fight corruption.
Instigated by Akufo-Addo (as then Minister of Justice and Attorney-General), Kufuor established the Fast Track Courts that Tsatsu Tsikata (one of the accused being positioned for trial on charges of corruption) successfully repudiated. What did Kufuor do? He "packed" the Supreme Court to win favour from Justice Afreh (dead thereafter). That act by Kufuor isn't commendable in any way.
More than that. Those lined up for prosecution were identified as NDC functionaries whose contributions to the political fortunes of the NDC the NPP hated. Victor Selormey died in consequence. Tsatsu Tsikata went through the maze and survived when Kufuor pardoned him and Nana Konadu Agyemang-Rawlings, Sipa Yankey, and Kwame Peprah as if they didn't commit any crime, after all. And that happened just a day before Kufuor left office because the electorate had rejected the NPP at the polls to bring Atta Mills to power.
Too much of the background information already. Where does it all lead us? It tells us plainly that what Akufo-Addo is basing his useless hopes on to help him fight corruption in Ghana isn't worth my bother. It is nothing new as far as corruption is concerned.
What is new is that Akufo-Addo is deceiving himself that by naming his effort as "Office of Special prosecutor", he is coming out with something spectacular to bewitch Ghanaians. Only a shallow-minded politician of his sort will go this way.
And to buttress his shallowness, let us point out here that even before the legal framework could be set for this amorphous NPP enclave, he had gone ahead to name Akoto Ampaw of his own law firm as the Special prosecutor. How stupid couldn't he be to think that such a character merits the designation as "an Independent Special Prosecutor"? Intriguingly, the bill that the unproductive Parliament passed doesn't even have any room for the adjective "Independent". So, who is thinking right in this Akufo-Addo madhouse?
Folks, there is a lot more on my mind about this trash from Akufo-Addo that I will spill out when challenged. The truth, though, must be told that what Akufo-Addo considers as his flagship strategy for fighting corruption in Ghana isn't anything worth anybody's bother. We've been there before and won't want to lose any sleep over what Akufo-Addo is wasting his breath on. He had better be careful.
I shall return…