Operation Vanguard Working Under The Directive Of Rich Illegal Miners And Not The President?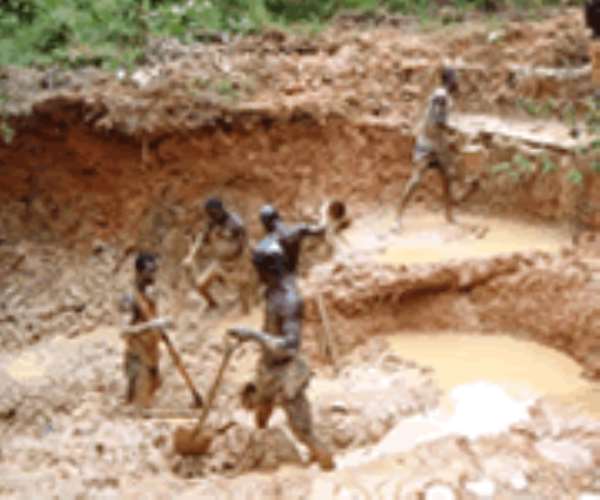 We are by this letter drawing the attention of the Presidency, Ministry of Lands and Natural Resources and the MCE of Prestea Hunivalley District of developments in Himan a town in the Prestea Hunivalley District.
Nana Amponsah Okobeng is a small-scale miner who resides in Bogoso and has been working on Himan/Prestea concession for some years now.
Today around 3 pm he led a Team of Soldiers who vandalized Properties of People in Himan and seized an excavator of a colleague Miner which was seeking refuge in the bush.
According to Nana Amponsah, Mr. Amoah whose excavator was seeking refuge in the bush had purchased a land which was earlier sold to him (Nana Amponsah Okobeng) to mine.
We find it very difficult to understand the capacity of Nana Okobeng Amponsah that enables him to send soldiers to vandalize and seize properties of people. It is so pathetic that the government trusted operation vanguard team have allowed themselves to be used by these small-scale miners to champion their own interest.
This is very disrespecting to the powers vested in the President of the Republic of Ghana unless of course the Minister of Lands and Natural Resources (Hon. Peter Amenu) has contracted Private small-scale miners to lead the operation vanguard team in their stop galamsey task and we demand answers from the Ministry.
We also want to find out if operation Vanguard has been vested with the powers to destroy Properties in their stop galamsey task.
According to eyewitnesses, some machines were also seeking refuge in the bush but only the machine of Mr. Amoah was sent away by these soldiers because of allegations levelled against him by Nana Okobeng Amponsah for purchasing a land belonging to him. In addition, a galamsey workshop which has been closed down for a year following the death of the Owner was also destroyed for no genuine reason.
It is alleged that the owner of the galamsey workshop initially issued out the Land to Nana Okobeng Amponsah in his capacity as Abusuapanyin of the Oyoko family in Himan. Nana Okobeng was asked to vacate the land following a misunderstanding between himself and the deceased Abusuapanyin (Nana Nteful Akona II) which the matter was later sent to the Secondi High court for arbitration. It is very clear
that in Ghana rich people can take the law into their own hands and act in a manner that gives them the maximum utility at the expense of others.
As a youth wing in Himan, we find this action as null and void and we entreat the President and the Minister of Lands and Natural Resources to call Operation Vanguard and the rich Nana Amponsah Okobeng into order. We are also calling on the MCE of Prestea HuniValley District (Hon. Mozart Kwaku Ohu) to take the matter on and ensure that the right thing is done in the District.
SIGNED:
EBENEZER OTCHERE (PRESIDENT)
ADDO KWAME KYEI(SECRETARY)
DANIEL FRENCH (PRO)
CC:
Ministry of Lands and Natural Resources
The DCE Prestea Hunivalley Constituency
Nana Nteboa Pra IV