Mallam Atta Market Witnesses Slow Patronage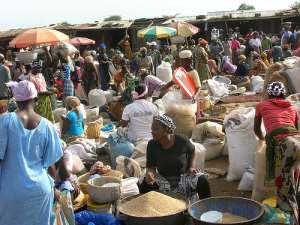 Traders are complaining of low patronage of their wares, a market survey conducted by the Ghana News Agency (GNA) has revealed.
In an interview with GNA, Madam Afia Mansah, a cassava and plantain seller at the Mallam Atta market in Accra, said there had been no increase in patronage of her food stuffs this festive month adding that despite stable prices of her food stuff there has not been an increase in patronage.
Timothy Anambire and Emmanuel Akanzoe, both poultry sellers at the Mallam Atta market told the GNA that the happenings this festive month had gone contrary to their expectations as a result of the low patronage of their fowls by customers.
They said last year was far more active in terms of buying of fowls as compared to the dull atmosphere this festive month.
They said the price of the broilers which is GH¢65.00, the layers which is also GH¢30.00 as well as the local fowls ranging from GH¢30 to GH¢60 had been the same throughout the previous months and yet customers were not buying.
Awudu Molbila, a meat seller at the Mallam Atta market also confirmed to the GNA that there was low patronage, despite the Christmas festivities and attributed the low patronage to a recent increase in meat prices due to the festive month. 'A full goat is now sold for GH¢100 and this perhaps has caused the decline in meat sales', he said.
Yaa Agyekumwaa, a snail seller at the Mallam Atta market said her snails were all dying since customers were not buying them, but expected patronage to rise, hours before Christmas day.
Sadika Nuhu, a pestle and mortar seller at the Mallam Atta market said business was not moving as she hoped, but remained optimistic that customers would gradually begin to buy things as the days go by.
GNA
By Papa Yaw Danso, GNA