NVFI Seals Partnership Deal With SEDAT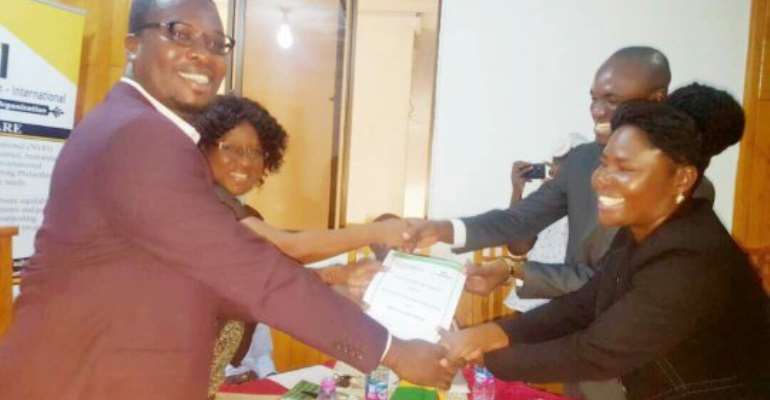 The New Vision Foundation International (NVFI), a development oriented humanitarian relief and advocacy Non-Governmental Organization (NGO) has signed a partnership agreement with SEDAT Consult.
The partnership is among other things assist students in the region to discover and appreciate their innate talents and strengths for career decision making and to explore and understand the dynamics of the 21st century World of work.
Under the partnership agreement, NVFI would organise educational talk shows in the target schools and colleges and undertake development oriented activities that would facilitate purpose-driven education for students for smooth entry into the labour market.
Speaking at a ceremony to announce the partnership, , Mr. Gabriel Adams, the Executive Director of NVFI underscored the importance of the partnership adding that, career guidance was an important but the missing element in the country's educational system.
He explained that there was a major disconnect between the expectations of the educational system and the preparation for and selection of a career plan.
'Many students are confused about their future. Many are unemployed and looking for jobs and many are not able to build a successful career because of lack of or inadequate career coaching or guidance' he added.
Mr Adams said NVFI was dedicated to addressing the challenges of deprived rural and urban communities in youth development, education, women empowerment and protection of children's rights and access to social justice.
Subsequently, he said the Foundation would live true to its mission to achieve its vision through building sustainable and healthy partnerships with donor agencies, companies, government agencies philanthropists and other NGOs.
Mr Adams was happy that the partnership would help NVFI to fulfill its mandate towards the youth within its operational areas.
Mrs Patricia Abena Kissi, Chief Executive Officer of SEDAT Consult, said they were committed to providing innovative practical training as well as human resource solutions to students using proven techniques.
She expressed the delight of her company for the partnership through which the students of the beneficiary schools would see the positive impact of her company's presence.
She said the company believed in helping the youth to choose the right careers to live fulfilled lives and that the partnership agreement formed part of their Corporate Social Responsibilities (CSR).
She said the partnership was propelled by its passion to help young people to develop the critical skills for their personal and career development and stated that beneficiaries would soon witness the impact of the programme.
The agreement was signed on behalf of NVFI by its Executive Director, Mr Gabriel Adams and his counterpart at SEDAT Consult, Mrs Patricia Abena Kissi, the CEO.
GNA
By Afedzi Abdullah, GNA