Re: Bigotry At University of Education, Winneba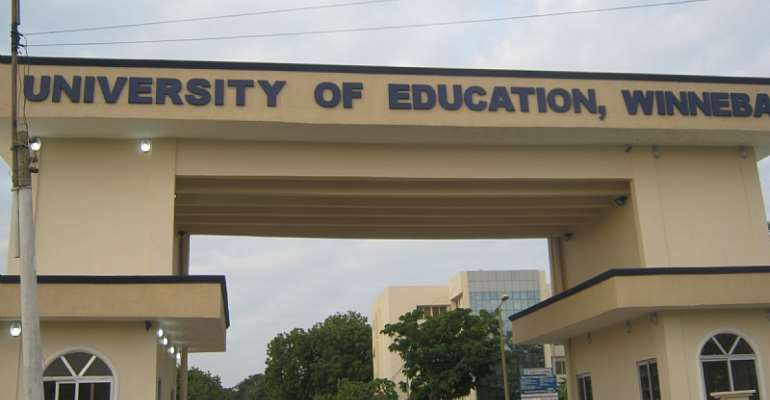 If there is anyone behind any plot to remove Prof. Avoke from office as the Vice Chancellor (VC) of the University of Education, Winneba (UEW), it is Prof. Avoke himself.
Every office holder in any civilised community must adhere to relevant laws, regulations and laid down procedures in the execution of the functions of his office. If a public official believes that he has overriding authority over National laws, and thereby executes official functions his own way other than what the law provides for, then no one should be blamed when such an official is legally removed from office.
Patrick Adu-Bortsie is of the contention that "prior to the appointment of Prof. Avoke as VC of University of Education, Winneba in 2015, a constant objection raised by some individuals against him was that he was a Voltarian".
Whether the above rumour is true or not, is beside the point. The question is, is there any law in Ghana that provides a quota or restricts the appointment of persons due to their ethnic origin as Vice Chancellors of public universities? The answer is no.
This is why even in the face of those unsubstantiated allegations raised by the 'vulture' Patrick Adu-Bortsie, Prof. Avoke, though a Voltarian, was appointed VC of UEW in 2015.
Therefore, the opening paragraphs of Patrick are nothing, but junk! The issues at stake are going to be decided in the law courts with incontrovertible evidence, and not hearsay.
Patrick's narrative that a call was made on the Central Regional House of Chiefs to support a bid to remove Prof. Avoke from office and get their preferred candidate to the VC position, can only spring from brainwashed individuals like him.
One will have to understand Patrick's position as being ignorant of the law, hence the above childish stuff.
Nowhere in Act 672 is it stated that the Central Regional House of Chiefs has a role to play in the making or unmaking of a VC of UEW. Patrick and Ablakwa should go and tell their concocted stories to 'the mount', since nowadays, even class one chaps, would expose the lacuna in their lamentations.
Patrick appears to be on the right path, when he stated that, "on May 23, 2017, an indigene of Winneba, Supi Kwayera (an obvious pawn in the bigots' game), dragged UEW to the Winneba High Court".
Patrick is now according the "bigots" their due respect. Why should the "bigots" use undemocratic methods, such as visiting Regional Houses of Chiefs to get a VC out of office? What is the use of the law courts? The bigots have just achieved that! Kudos to the bigots!!
If Supi Kwayera is a pawn in the bigots' game, so also is Patrick Adu-Bortsie a vulture in the hyenas' dirty campaign.
A fresh case is to be filed by Supi Kwayera at the Winneba High Court, via a writ of summons as advised by the Supreme Court, so no need to waste precious time on Patrick's ignorance regarding the reasons why the VC and FO were convicted by the Winneba High Court.
Just to enlighten those who might hold Patrick's viewpoint regarding the conviction of the VC and FO by the Winneba High Court. The said 2 officials are the signatories to the contentious contracts and dubious payments, hence the position of the law is that they must be held accountable for their omissions or commissions.
Patrick needs to be educated that if one engages the services of a lawyer, it behoves on the lawyer to argue out your case, and they had a lawyer who did exactly that. There is ample evidence of this.
The whole world knows that the Supreme Court quashed the decision of the Winneba High Court, on the Supi v. UEW & Others, not for want of jurisdiction by the High Court, Winneba, or a lack of locus standi by the 1st Interested Party (Supi Kwayera), but purely on a filing error.
If Patrick Adu-Bortsie has evidence that Article 17 (2) of the Constitution 1992, or any other law has been violated in the processes adopted by the "bigots" to rid UEW of maladministration, daylight robbery, nepotism, favouritism, wanton dissipation of public funds, and outright circumvention of the laws of Ghana, spearheaded by the VC and FO, who Patrick is struggling to defend, what stops Patrick Adu-Bortsie and other like-minded individuals from going to court to assert their rights?
Ask the embattled VC and FO, whether they transferred non Voltarians wholesale, from the Finance Secretariat of UEW to 'Siberia' to enable them carry out their gargantuan loot at Winneba or not.
Ask Prof Mawutor Avoke to tell Ghanaians how Ms Shine Agbevivi became a lecturer at UEW. Did she ever attend any interview at the Department or Faculty level? The VC you are vainly defending should explain, whether Shine Agbevivi had been confirmed when she was appointed Coordinator at the IEDE. I don't want to talk about dating issues here, because that's their private affair.
Ask the FO you are lamely defending, whether he singularly set up a Printing Press on UEW premises with UEW funds, and run it as his private company? A separate bank account, out of the sight of UEW was opened by the interdicted FO for the Printing Press.
The head of the Printing Press, is Ackorlie's brother-in-law, that is, the brother of his second wife based in Kumasi. Can anyone tell us how this in-law was employed? What role did Prof Mawutor Avoke play in this?
Last year, the staff of the Printing Press shared a bonus amongst themselves. Ask the interdicted officers you are struggling to defend, who approved the bonus and who devised the formula for the sharing of that loot, in which a cleaner at the Printing Press, took home a cool Ghc 2,000 bonus. How much bonus was paid to lecturers last year? Is there any bonus for lecturers of UEW?
Ask the nation looters you are blindly following, whether they promoted a certain lady with just SHS certificate and a suspicious accounting qualification to a rank far above holders of Masters Degrees at Payroll or not?Dating is irrelevant at this point.
The interdicted FO can build hundreds of houses for his concubines in Cape Coast and elsewhere; acquire thousands of acres of land around Winneba and its environs to venture into real estate; set up car garages around the country; go into fuel retailing; purchase shares in insurance companies and employ a former UTAG UEW Secretary's wife as an insurance sales agent and buy cars for them; develop estates and let them out; beat his wives, etc., these are all none of my business, so far as his official duties are not compromised.
It is submitted without any reservations that the law courts will prove whether the embattled VC and FO of UEW, are being pushed out of office by seen and unseen hands, or the perfectly interdicted officials are agents of their own downfall as a result of a circumvention of the Public Procurement Act 2003 (Act 663), as amended, coupled with a wilful violation of financial and other relevant laws of Ghana.
Alhassan Salifu Bawah
(son of a peasant farmer)