Ecom-Ghana Moves To Improve Old Cocoa Farms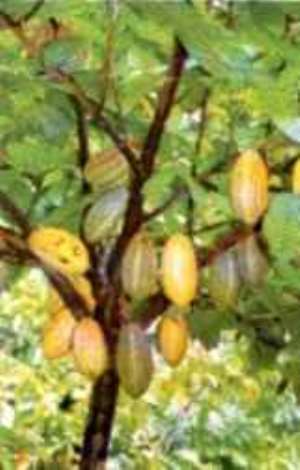 Ecom-Ghana, a cocoa buying company, would from January introduce the 'farm management service programme' for old cocoa farms in Cocoa growing areas in the country.
Cocoa farms which are between ten to twenty five years are expected to benefit from the new programme.
Mr Gideon Atilego, a technical officer of Ecom-Ghana, said this in an interview with the Ghana News Agency at Nyame Nnae in the Amenfi West District.
He said per the arrangement from January to September when farming of cocoa begins, the company would weed, apply fertilizer and chemicals, prune and also pollinate flowers of old cocoa farms that would be selected.
Mr Atilego said at every harvest, the company would divide the harvest into three, with the farmer and Ecom-Ghana receiving one third each, whilst the remaining one third would be used as part payment of the investment cost incurred by Ecom-Ghana.
He said the company would continue with this arrangement until they recoup all the money spent on the farm.
Mr Atilego said after this, between three to four years the farmer at every harvest period would then be entitled to two thirds while one third goes to Ecom-Ghana.
The technical officer said if any farmer decides to opt out after the years indicated, the company was prepared to hand over his farm.
Mr Atilego said in every fifteen communities a supervisor would be appointed to be in charge of fifteen acres of cocoa farms.
He said communities that would not be able to meet the requirement would still have the opportunity to be enrolled onto the programme.
He assured cocoa farmers that Ecom-Ghana was interested in enhancing the life of the rural cocoa farmers and would do everything to ensure the success of the programme.