Vice President Arrives in Bolgatanga.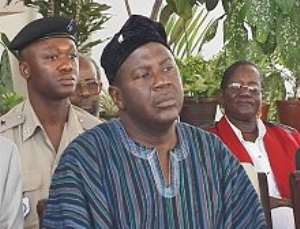 Bolgatanga, July 21, GNA - Vice President Aliu Mahama arrived in Bolgatanga on Thursday for a five-day working tour of the Upper East Region. He was met on the White Volta Bridge at Pwalugu, near Bolgatanga by the Regional Minister, Mr Boniface Gambila, and the Deputy Regional Minister Mr Ahmed Awudu Yirimea; Council of State Members Mr Francis Afoko and Mr C. K. Tedam, Municipal and District Chief Executives; Regional and Constituency Executives of the New Patriotic Party (NPP) and Heads of some Government Departments. The Vice President would pay courtesy call on Bolga-Naba, Martin Abilba the Third on Friday after which he would inaugurate a newly established branch of the APEX Bank in Bolgatanga, the regional capital. Vice President Aliu Mahama would join the Muslim community later in the afternoon for the Friday "Jumma" or congregational prayers at the Bolgatanga Central Mosque, after which he would inspect the progress of work on the refurbishment of the Bolgatanga General Hospital.
He would end Friday's schedule with a visit to the Rice Milling Project at Zuarungu, near Bolgatanga, initiated by the Single Mothers Association, a local women's organization.
Subsequent engagements of Vice President Mahama include a visit to the Bugre Dam famous for onion cultivation and inauguration of the rehabilitated Timonde Dam near Zebilla. He would also inspect works on the Model School Projects at Bawku Secondary School and Bolgatanga Secondary School.
He would later visit some farm projects at Gbeogo and Mamaba and ascertain the progress of work on the Damolgo Dam, all in the Talensi-Nabdam District.
Vice President Mahama would also inaugurate a new staff accommodation block at Bongo Secondary School, inspect works on the Bolgatanga - Bongo main road, and acquaint himself with ongoing projects at the Navrongo Campus of the University for Development Studies (UDS). He would visit the Community Health Nurses' Training School in Navrongo, inspect farming projects at the Vea and Tono Irrigation Projects and inaugurate a Ghana Education Trust Fund (GET-Fund) Assembly Hall Project at Sandema Secondary School in the Builsa District. Vice Presdident Mahama would inspect a rehabilitated Maternity Ward at Sandema Hospital, after which he would continue to Fumbisi to inspect ongoing works at the Fumbisi Health Centre.
Deputy Minister of Ports, Harbours and Railways, Dr Agesika Agambilla is included in the Vice President's entourage. 21 July 05