Prosecution Of Christmas Criminals Should Be Fast-tracked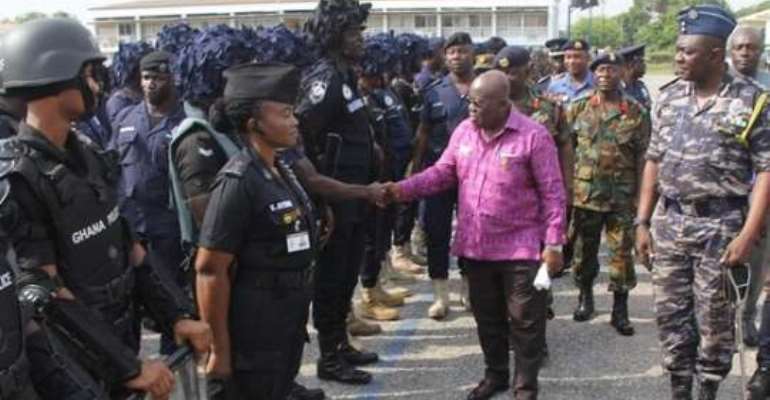 Mr. Dominic Nitiwul, the Minister for Defence, has called on the Judiciary to assist in the swift prosecution of offenders arrested by the Police and Military Patrol teams during the Yuletide celebrations.
Mr Nitiwul said this would boost the morale of the troops to combat crime and sustain the peace and stability the country is enjoying.
The Defence Minister made the call during the re-launch of Operation 'Calm Life' by President Nana Addo Damkwa Akuffo-Addo at the National Police Training School in Accra on Friday.
Operation 'Calm Life' a joint Police/Military operations was started in the year 2001 to confront some violent crimes which were mushrooming within Accra and its environs and later replicated in the nine regions.
Additionally, Operation Calm Life is to create the environment for citizens and residents to go about their normal economic activities without fear of crime or intimidation from any individual or groups.
He said pursuant to the numerous perceptions and complains from the public regarding the rise in armed related crimes such as armed robbery, highway robberies and Land guard activities, it had become necessary to redesign a workable plan to nib in the bud these activities which have the tendency to disturb the peaceful celebration of the Christmas and the New Year festivities and thereafter.
'It is in this regard that President Nana Addo Dankwa Akuffo-Addo took the decision to retool the security services particularly the police and the military to ensure that law abiding Ghanaians have their peace undisturbed when celebrating the Christmas and New Year, which is usually the height of most of these violent crimes, and to sustain this momentum further,' he said.
Mr Ntiwul therefore called on the public to contribute their quota to these efforts by volunteering credible information that will help the security services succeed in their fight against these criminals and their activities.
Mr David Asante-Apeatu, the Inspector General of Police said the reactivation of Operation Calm Life is to ensure the Police and Military continue to provide a safe and serene environment for the people and residents in Accra and other parts of the country especially during this yuletide and beyond.
He said the level of enthusiasm with which the operation was started in 2001 had reduced mainly because crime was effectively brought under control within Accra and its environs and also across the country, adding that other regions with peculiar criminal tendencies have responses appropriately designed to contain the situation.
Mr Ambrose Dery, the Minister of Interior, said government was committed to supporting the security services with the necessary logistics to enable them effectively undertake their duties.
He said government had taken several initiatives and focus actions against several criminal acts to ensure the stability of the nation which included the establishment of the Police Emergency Command Centre, the anti-cybercrime amongst other interventions.