Help Tackle Rampant Fulani Attacks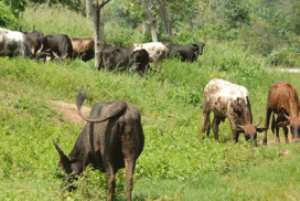 President Nana Addo Dankwa Akufo-Addo has assured that kraals and fodder banks are being constructed in the Afram Plains to contain the cattle of the Fulani herdsmen to help stop their clashes with farmers in the Kwawu area.
He commended the Kwahus for supporting the New Patriotic Party (NPP) in all general elections under the 1992 constitution and assured the area of its share of the National cake.
The President gave the assurance in responds to an appeal made by the Kwahumanhene, Daasebre Akuamoah Agyepong II, when he paid a courtesy call on him at his palace at Abene as part of his three days tour of the Eastern Region.
The Minister of Roads and Highways, Mr Kwasi Amoako Atta, assured that most of the roads in the Kwahu area had been captured in next year's budget for construction.
Daasebre Akuamoah Agyepong appealed to the government to put in place measures that would solve the Fulani menace in the Kwahu Area.
He said the Fulani menace had led to loss of many lives, prevented children from going to school in some of the communities, destruction of farm produce, while residents of some of the communities have had to vacate their communities due to conflict between the people and the Fulani herdsmen which had affected socio-economic development in the area.
Daasebre Agyepong said the Kwahus have always voted massively for the New Patriotic Party(NPP) in all the general elections and also paid huge taxes as business people to enhance the country's economy and urged the government to reconstruct deployable roads in the area.
The Omanhene also appealed for the improvement of water supply to the Kwahu Ridge, completion of the District Hospital at Abetifi and to construct a bridge on the Afram River between Kwahu Adawso and Ekye Amamfrom in the Afram Plains for the evacuation of large quantity of foodstuffs produce in the area.
GNA