Give Your Children Nutritious Foods---First Lady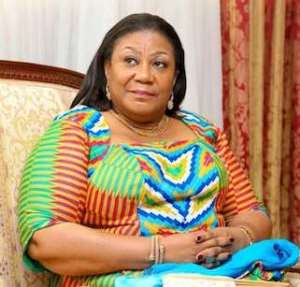 The First Lady, Mrs Rebecca Akufo-Addo, has called on all stakeholders to spread the gospel of breastfeeding and nutritional foods for children to enable them grow normally.
She said this was crucial as there was overwhelming evidence that a significant number of Ghanaian children were malnourished with many suffering from anaemia.
The First Lady made the call in Accra on Wednesday, when she made donations of assorted food items to the Princess Marie Louis Children's Hospital to aid them in the Christmas celebrations.
She said if all stakeholders could help improve nutrition in children, Ghana would be going a long way in enhancing the holistic development of children.
'We should all play our roles to ensure that our children have the appropriate nutrition as part of their early childhood development. This will help us build stronger future generations.'
The First Lady commended all men and women who work in the interest of Ghanaian children despite the challenges adding that the Rebecca Foundation and the Infanta Malaria Foundation was doing all it could to support the healthcare of women and children.
'You have heard about the Komfo Anokye mother and baby unit, which the Rebecca Foundation just completed and the building of hostel for parents of children undergoing cancer treatment at Korle-Bu.
'This is just the beginning. Our next project is at the Korle-Bu children's emergency ward and then hopefully we will look at other regions,' she said.
She said the Infanta Malaria Foundation was working with other partners in malaria prevention and improving nutrition outcomes for women and children and commended all the partners and contributors for their support in executing their projects.
Rev Father Campbell, a Catholic Parish Priest, in his Christmas message advised families to use the Christmas season to unite as one big family to socialise.
He said there were too many broken families in the country which had led to the increased number of street children day in and day out.
According to Father Campbell there was the need to strengthen family ties in the country as this was key in the development of the country.
He said the children on the streets were not receiving the guidance they needed because of irresponsible parents especially fathers and urged them to take advantage of the season to unite with their families.
'Ignore every activity you have during this Christmas because the day is meant for families to socialise,' he said
Dr Isaac K. Abban, the Acting Medical Director, Children's Hospital, expressed gratitude to the First Lady and other donors for the support.
The other donors included; Wilmar Industries, Awake Natural Mineral Water, United Brother Association, Danike Limited, Filas-Okaishie, K.O Nitim Enterprise, Mrs Vida Amartey and the Curative Art Foundation.
GNA
By Samira Larbie, GNA