Charges Against Former NCA Chair And Board Members Are "Unfortunate"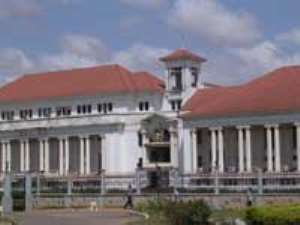 The Center for Progressive Governance's (CenProG) attention has been drawn to 17 charges of causing financial loss, including a variety of other charges of financial malfeasance, breach of the Public Procurerment Act and money laundering which have been brought by the Republic against former members of the NCA board and a private person. The circumstances leading to these charges being brought, CENPROG believes should be characterised as "unfortunate."
Why would we draw this conclusion:
This case comes against the Akuffo Addo led government promising Ghanaians that it will not rush to court but will only prosecute former officials after thorough investigations. However, in the view of CENPROG the particulars of the 17 charges shows a lack of due diligence in the investigative process.
It will be recalled that even before the accused persons would have their day in court, the Minister of Information had gone from radio station to radio station in a calculated bid to misinform the discerning Ghanaian public to the effect that the accused persons had admitted guilt to all the allegations. His claim was however swiftly rebutted by those involved.
CenProG notes with a heavy heart that the government sees no wrong in compromising Ghana's national security in an attempt to score political points by persecuting political opponents. By putting the fact of the sensitive equipment and the surveillance capacity in the public domain, security and/or confidentiality has effectively been eclipsed.
CenProG like all other well meaning Ghanaians will NEVER shield any corrupt former or current official but it will forever act as watchdogs in the pursuit of pointing out to the good people of Ghana what it sees as politically motivated attempts at scoring points against perceived political opponents in the court of public opinion rather than giving them a fair hearing in the law courts.
The accused have denied all the allegations levelled against them and until proven otherwise, they are presumed INNOCENT in the eyes of the Law and the public at large. We at CENPROG would be playing a watchdog role in the case filed today. We still have respect for Ghana's justice system despite the many challenges it has faced and indeed continues to face including lack of funding, corruption, cronyism and now attacks on its safety and security. We are praying that this is a case that would be handled purely on a legal basis. We will be fearless watchdogs in the persecution of criminal justice. We hope this is not a ploy to shift attention from the current discussions on corruption and incompetence.
Take note that CENPROG will be watching.
God Bless our homeland Ghana and make it GREAT and STRONG.
Signed
Sawadogo Mahmoud
Executive Secretary, CenProG
0504607005/0244997751
Mallam Yahya Mohammed
Executive Director, CenProG
Cc:
His Excellency Nana Akuffo Addo, Flagstaff House, Accra.
Attorney General and Minister of Justice, Accra.
All Media Houses