Benjamin Borketey Bortei Is New Occupant Of Nungua Black Stool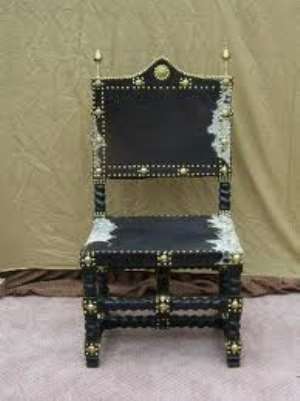 THE people of Nungua have installed a 37-year-old Electrical Engineer, Nii Bortey Kofi Frankwa II, as the official representative of the Nungua Mankralo, Oblenpong Nunma Nii Alabi Dzenge VI.
As a representative of the Mankralo, who is the occupant of the Black Stool, Nii Frankwa II, known in private life as Mr Benjamin Borketey Bortei, will act as regent and also perform the role of Oyibi Gonten (Sanfuanu).
Nii Dzenge VI, who has occupied the stool for 43 years is currently ill and inactive due to old age, necessitating the installation of a regent to work on his behalf.
At a colourful installation ceremony which took place in the presence of the Nungua Dzenge We elders and the king- makers, headed by the Dzenge We Seitse, Nii Borlabie Sam Prempeh, the regent was placed on the laps of the substantive Mankralo to signify the traditional role assigned him.
The event commenced after the performance of some rituals of the people of Nungua and Oyibi.
The final traditional rites were performed by the Gbobu Wolomo and Shitse of the Ga-Dangme State, Wor Lumor Konor Nuumo Borketey Laweh Tsuru XXXIII at his palace to complete the installation process.
Speaking in an interview with the Daily Graphic after the installation, the Nungua Mankralo and Vice-President of the Nungua Traditional Area, Nii Dzenge VI, said he expected his regent to act in his stead in the full capacity as occupant of the Nungua Black Stool.
He pledged his unflinching support for the regent and tasked him to uphold the standard that comes with his new position.
The new regent noted that he was humbled by the opportunity given him to serve his people, the entire Ga-Dangme state and the country in general.
He pledged to be available anytime he was called upon by Oblenpong Nunma Nii Alabi Dzenge VI, the elders of the clan as well as the people of the Oyibi and Nungua communities.
Nii Frankwa II, however, called for unity among the people, because that was important in achieving the needed development in Nungua and Oyibi.
He added that, "the people of Nungua and Oyibi are indeed thirsty for unity hence the quest to work for unity as I believe that leadership is service to mankind and not to be served."
The Nungua Mankralo stool is semi-autonomous and the only stool which has two distinct festivals celebrated in its honour.
The first, Sei Yeleyeli, is celebrated in the last week of September at Nungua and the second at Oyibi, that is the Oyibi Yeleyeli, celebrated in the first week of October each year.