Minister visits fishing communities
News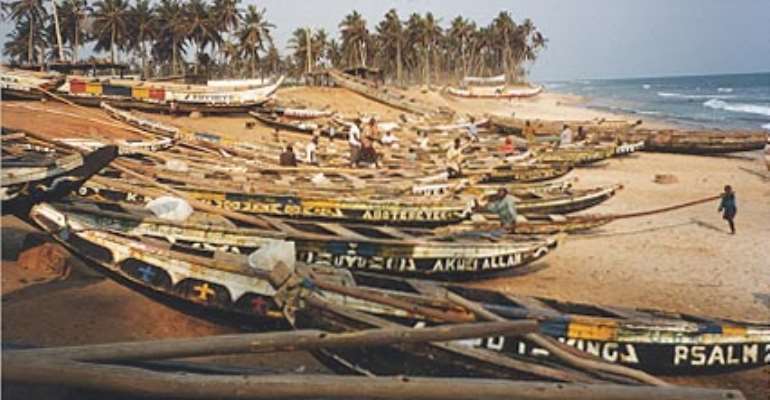 Winneba, July 21, GNA - The Deputy Minister of Fisheries (MOF), Mr Daniel Christian Dugan, has completed a day's visit to a number of fishing communities in the Western and Central Regions. According to Mr David O Aidoo, Micro Project Officer of the Ministry, who the Minister visited Axim, Shama, Aboesi, Mooree, Apam, Senya-Beraku and Winneba.
It was to collate ideas and suggestions from fishermen to enable the Ministry to streamline the supply and distribution of Premixed Petrol to promote fishing during the major season. The tour also enabled the Deputy Minister the opportunity to discuss vital issues in the industry.
Mr. Dugan explained various interventions the Government had taken including vocational training and credit facilities, to improve the socio-economic well being of fishermen, fishmongers and their families. He also called on the Omanhene of the Effutu Traditional Area, Neenyi Ghartey VII and the District Chief Executive for Awutu-Effutu-Senya, Mr Solomon Kwarshie Abbam Quaye and the District Co-ordinating Director, Alhaji Ishaq Asuru and Mr Kwesi Esseku, the Presiding Member of the Assembly.
Neenyi Ghartey stressed the Effutu Traditional Council's appeal for the construction of a breakwater at Winneba to protect canoes and fishing nets during the periodical strong winds. He reminded the Deputy Minister of a feasibility report prepared by a Norwegian team for the construction of a breakwater and urged the Minister to study it for implementation to boost the morale of fishermen and the industry.
It would also help in reviving the dynamism and economic activities in the town and communities around Winneba.
The District Chief Executive expressed gratitude to the Deputy Minister and his entourage for the visit and assured them of the determination of the District Assembly to collaborate in the efforts to ensure the successful implementation of programmes in the industry in the area.