Catholic Diocese Builds 4-Star Hotel In Kumasi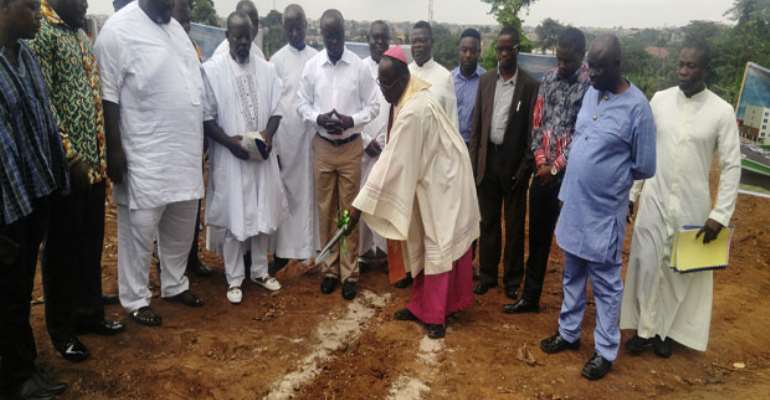 The Catholic Archdiocese of Kumasi has cut sod for the construction of a four-star hotel at the Christian Village, near Santasi in the Ashanti Regional capital, to promote tourism and culture.
The four-star hotel is to replace the Christian Village Guest House built in 1975.
It would have state-of-the-art café, gymnasium, travel agency, bank, store, salon, as well as internet and shuttle bus system.
The Archdiocese signed a Build, Operate and Transfer (BOT) agreement with the Zionist Construction Company Limited, a Nigerian construction firm, to build the hotel.
Most Rev Gabriel Justice Anokye, the Archbishop, who cut sod with support from the Kumasi Mayor, said it has become necessary for the hotel to be built because of the competitiveness of the hospitality industry in the country.
"It was near impossibility to sponsor or support such investment on our own. We are most grateful to God for forging a partnership with the Zionist Construction Company Limited for Build, Operate and Transfer (BOT) agreement," he stated.
According to the Catholic Bishop, the entire Archdiocese is happy about the construction of the four-star hotel.
Most Rev Anokye said the project, which is expected to be completed in the next three years, would create job opportunities for the teeming youth.
It would be the city's first four-star hotel owned by a religious organisation.
The Chief Executive of the Kumasi Metropolitan Assembly (KMA), Osei Assibey Antwi, indicated that Kumasi needs a four-star hotel to boost tourism and create jobs.
According to him, the four-star hotel would be patronized by many people who travel to the city on a daily basis.
Mr Assibey reiterated government's support for the Catholic Church, which has contributed greatly to the development of the country in the areas of health and education.
From Ernest Kofi Adu, Kumasi