Manya Krobo To See Massive Development--Akufo-Addo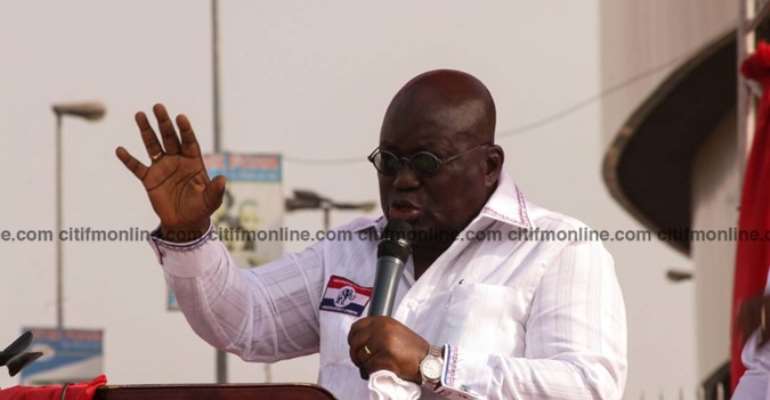 President Akufo-Addo has assured the people of Manya Krobo in the Eastern Region, that his government is dedicated to developing that area, and every other town in the region.
The President, who acknowledged the support of the people of Manya Krobo during the 2016 election, pledged his unflinching support to the chiefs and people of Manya Krobo.
He made the pledge at Asesewa in the Upper Manya Krobo District, when he paid a visit to the town as part of his three-day tour of the Eastern Region.
"I choose to come here this time to seize the opportunity to wish you all a Merry Christmas. Today is the third time I am visiting the krobo land this year, and it is the truth the reason is that, I want Krobo land to be part of NPP territory so I want to say a big thank you to you all for voting for NPP and Joseph Tetteh as your Member of Parliament. Now we have Upper Manya, so it is left with Lower Manya and Yilo Krobo and we will be done".
"Prior to the elections, a lot of people circulated baseless rumours that Krobo people will not vote for the NPP, they also added that I am an Akyem and when you vote for me, I will sack you all out of the Eastern Region, it is already one year I took over the presidency, and have you witnessed any thing they talked about? So now you all know the truth that I am part of you".
"I am grateful for the help and support you have given to us, and I am determined with all my energy to make sure Ghana becomes the country of our dreams. I told Parliament at the beginning of my presidency that I am a man in a hurry, and this year I want to show to you that indeed I am a man in a hurry".
President Nana Addo then assured the Kronor of Manya Krobo Nene Sakite II, that he will see to the realization of all his requests.
Nene Sakite II in his earlier address, requested for the creation of a new district, construction of a dinning hall, a classroom block for the Asesewa Senior High School, and the rehabilitation of some major roads.
President Nana Addo reiterated his commitment to addressing all the issues raised by the Kronor of Manya Krobo.
"Nene, I would want to assure you that everything you have requested for will be taken care of, the appeal for a new district, rehabilitation of the classroom block. Construction of the dinning hall and the provision of an ambulance and the roads in Asesewa will all get a face lift. Over these four years, you will see them being constructed one after the other".
Lets stay united
The President also emphasized the need for unity, saying "one thing that is important to me is that, we should stay united in our democracy. Our democracy allows us to have different parties, different point of view, but we should all stay united under the Ghana project, and enjoy life because that is my biggest ambition".
"I know and believe we can all stay united and in harmony, Krobo's, Akyems, Gas, Ewes, Nzemas, Hauzas, Mamprusis, and every tribe all of us together as one family for the betterment of one Ghana," he added.