Sukura '1' ASA Savings and Loans Eulogizes Ansaru-Deen Islamic Sch Complex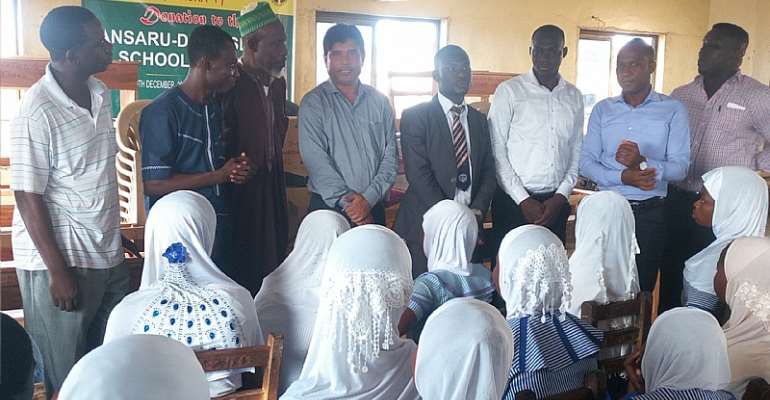 The Sukura '1' branch of the ASA Savings and Loans Limited has donated items to Ansaru-Deen Islamic School Complex in Sukura to improve the quality of teaching and learning in the school.
The donation include items such as 50 plastic chairs, 10 dual desks, 10 ceiling fans, Acer Desktop computer, pre-technical tools, 10 boxes of chalk and a box of wooden duster worth Gh₵7000.
The Accra North Regional Manager of ASA Savings and Loans Limited, Mohammed Majad Ali Khan said the donation forms part of their Corporate Social Responsibility of giving back to the society.
He indicated that education forms the basis of every society adding that it can only be measured by increasing the support especially to the deprived schools.
Mohammed Majad Ali Khan noted these items will urge the school children to learn and excel academically.
He added that the teaching aides when properly used will enable the school children to develop their reading and learning skills.
The Headmaster of the Ansaru-Deen Islamic Complex School, Siba Salifu Shakibu expressed his gratitude to management of the Sukura '1' branch of ASA Savings and Loans Limited for the kind gesture.
He noted that since its establishment in 1986, the school has never received any major boost before even though there have been donations from individual organisations.
"We are overwhelmed, delighted, happy and grateful to the company for putting smiles on the faces of these school children with items that will make teaching and learning easy," he intimated.
The Vice Chairman of the Parents and Teachers Association (PTA), Yakubu Ali assured management of the company that the items will inure to the benefit of the school children, the school and the community at large.
He indicated that the school has put up a proper maintenance culture to ensure that these items last longer.