"Uber's Global Chief Brand Bozoma Saint. John To Speak At ALIWA Fundraising Lunch"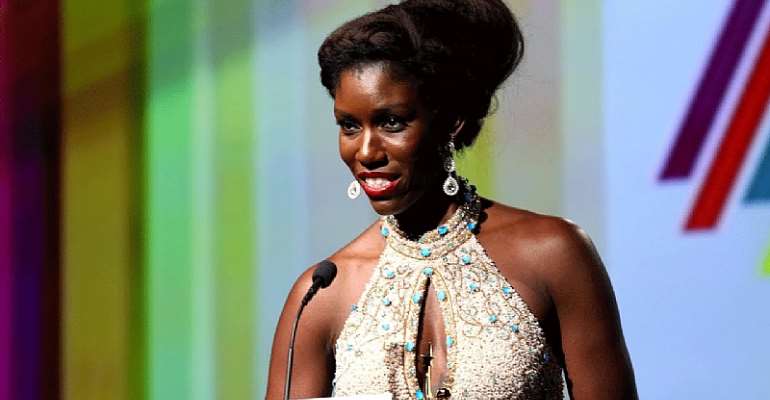 Uber's Ghanaian-American Global Brand Chief Bozoma Saint John will be the guest speaker in Accra on January 4, 2018 at the inaugural Speaker Series of the prestigious Africa Leadership Initiative West Africa (ALIWA).
The "brunch" event will take place at the Labadi Beach Hotel. Both of Saint John's parents come from Ghana. Saint. John is a global marketing icon and one of the most respected gures in Silicon Valley.
She will be speaking about her life, and work, as well as on how technology is reshaping the world. Nicknamed "The Boz", Saint John 40, has earned a formidable reputation as a trailblazing marketing and advertising executive having worked as Head of Global Consumer Marketing for Apple Music and iTunes.
She was born in Connecticut, USA, but spent part of her early childhood in Accra, Ghana, before immigrating back to the USA at age 12. She was recently described by Buzzfeed as the "coolest person to ever go on stage at an Apple event." Her father, Dr. Appianda Arthur, was a Minister in the administration of President Hilla Limann.
The Africa Leadership Initiative West Africa (ALIWA), co founded by Minister of Finance Ken Ofori Atta in 2002, is as a joint venture of the Aspen Institute, LEAP Africa (Nigeria), Databank Foundation (Ghana), and Techno Serve. ALIWA seeks to nurture a new generation of leaders who have achieved signicant career and personal success across all elds, and inspire them towards becoming impactful and signicant on the wider society.
ALIWA raises money to fund a cohort of Fellows in the sub-region every three to four years and engages them to confront some of the foremost challenges of their countries and times. ALIWA is aliated with the prestigious US-based Aspen Global Leadership Network Fellows of ALIWA include Nigeria's current Minister of Industry, Trade and Investment Dr. Okechukwu Enelamah, former Nigerian Communications Minister, Dr. Omobola Johnson, Ghana's former Minister of Foreign Aairs, Hannah Tetteh, and former Gender and Social Protection Minister, Nana Oye Lithur,.Other
Fellows in private sector include Founder of Ashesi University, Patrick Awuah; Co-Founder of Access Bank PLC, Aigboje Aig-Imoukhuede, Google Country representative, Estelle Akoo-Sowah and Managing Director of FC Group of Companies, Grace Amey-Obeng.
Speaking about the upcoming event, Mr. Kwaku Sakyi-Addo, a broadcaster and director at ALIWA said;"we're really looking forward to hear "Badass Boz" – as she calls herself - tell her incredible story, share her tech insights and inspire us to dream large and believe that we can compete at the global top….and win!"
The ALIWA Leadership Speaker Series will be a twice-a-year event where thought – leaders form diverse backgrounds, sourced from ALIWA's global networks will be hosted at speaking sessions on topics of public interest and relevance.
The aim of the series is to engage and inspire a wider network of leaders across dierent sectors of the society to work towards creating the "Good Society" It is also to create awareness about the need for value-based leadership