Aowin-Suaman cut off as the result of bad roads.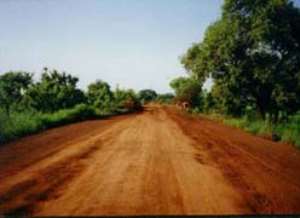 Dadieso (W/R), July 20, -GNA- The Aowin-Suaman district in the Western Region has been cut off from the rest of the country since the past two weeks following torrential rains that had rendered major roads in the area inaccessible.
The roads include the 43-kilometre Dadieso-Enchi and the 45-kilometre Dadieso-Juabeso roads and as a result, tonnes of cocoa and foodstuffs produced in the area could not be evacuated to the ports and the marketing centres.
Members of the district branch of the Ghana Private Road Transport Union (GPRTU) have met at Dadieso to discuss the problem, which is seriously affecting the social and economic lives of the people. Mr. Bediako Poku, the GPRTU Chairman said it was time Government did something about roads in the area to alleviate the hardships of the people.
He said about 20 articulated trucks conveying cocoa to the Takoradi Port got stuck at different portions of the Dadieso-Enchi-Asankrangwa. Mr. Poku also mentioned the Camp junction-Mile four, Fawokabra junction-Adonikro junction as the worse portions of the road that need urgent attention.
He said the bridge that span River Bia on the Dadieso-Juabeso road had collapsed to worsen the plight of the people.
Mr. Poku advised the few drivers who ply the roads and take advantage of the situation to charge exorbitant fares to desist from the practice.
Mr. Kofi Takyi the Union Secretary said the bad nature of roads may affect cocoa production because fertilizer, insecticides and other inputs could not get to farmers if nothing was done to improve the condition of the roads.