VFL-Ghana Holds Mentorship For Aflao Students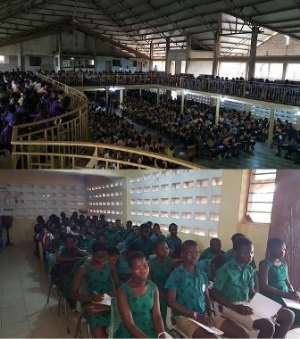 Over two thousand Junior High School pupils from 17 school within the Ketu South Municipality of the Volta Region have benefited from a day's mentorship session on their choices concerning the future.
VFL-Ghana, an NGO as part of its yearly activities to empower young people through lessons on living a decent and responsible life and achieving their desired professions, organized the session aimed at grooming a generation of well-trained and responsible future leaders.
Ms Abla Dzifa Gomashie, the Chief Executive Officer, VFL-Ghana sharing stories of her own life as a growing child applauded them for the obvious show of desire to be mentored towards their future.
Ms Gomashie, who is also Maama Dzramedo I of the Aflao Traditional Area, advised the students to be responsible, practice personal grooming and hygiene and build good relationships.
She encouraged the students to cultivate the habit of reading by visiting the library, forming study groups and using their time wisely.
She assured them that hard work paid; therefore, they should eschew laziness and desist from using the internet for vices, which would not inure to their benefit.
The Former Deputy Minister of tourism expressed concerned about the growing generation of young non-readers and urged them to consciously inculcate reading habits into their daily lives to be abreast with technological advancement.
'It is for this reason that VFL-Ghana has built and stocked a library in Aflao to encourage many of you to take up the habits of reading again,' she added.
A Captain in the Ghana Army, Ekow Sagoe, asked the children to hold the values of discipline at all times, if they ever wanted to join the Military.
He also emphasized the need to develop a good plan towards building a career and shared with them his idea of an ideal template on planning their career.
Ms Alice Mama Akosua Amoako, Programmes Coordinator of VFL-Ghana, said the organization planned to introduce a Digital Learning Programs to the Children and the Youth in the community, which would include E-learning, website development and robotics.
She said the programme would be introduced to help build the career of the youth, who were interested in developing a digital profession.
Other subjects discussed were on self-discipline, determination, taking studies serious, engaging in community service, proper use of the internet, sex education, menstrual hygiene, adopting a personal learning timetable, eating healthy, being respectful and humility.
The event was in partnership with the Ghana Education Service in the Ketu South Municipality, led by the Girls Education Coordinator, Madam Cecilia Dokli.
VFL-GHANA as a social enterprise is very passionate in embarking on social initiatives to help groom the youth and the children of our generation to be great leaders of tomorrow. The team believes in providing the Youth and the Children with the resources and necessary skills to help them live a decent and fulfilled life.