Christmas Traffic Already Building Up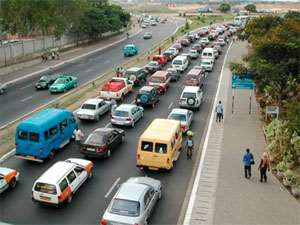 In less than a week before the Christmas festivities, the normal heavy vehicular and human traffic has hit the central business district of the Metropolis.
A survey conducted by the Ghana News Agency (GNA) on Monday and Tuesday indicated that there was heavy traffic during peak times leading to the Tema Station in Accra, Makola area and all other trading points.
Some people the GNA interviewed explained that the traffic was due to the fact that people had travelled from far and near to shop thereby jamming the city up.
'We are sure that by Wednesday, when workers would have started receiving their salaries, the situation could even be worst,' a motorist told the GNA at the Tema Station in Accra.
The festive period usually witnessed heavy vehicular and traffic jams on the roads and markets, ostensibly for them to carry out their last shopping for the yuletide.
Madam Joyce Asomani, a trader said due to the festive period getting vehicles had become difficult as people travelled from far and near to shop in Accra.
Mr Alex Amoah, a driver told the GNA that driving during the Christmas season was hectic because Accra was over crowded, and traders sell everywhere thereby worsening the already chaotic situations in the Metropolis.
Ms Beatrice Koomson, a business woman said she spent so much time at the bus stop before getting a vehicle to Accra Central.
'We also struggle the same way to get vehicle home, when we close from work giving us too much stress within this week.'
Mr Eric Johnson, a driver at Amasaman said ''the heavy traffic waste my fuel all the time, I spend several hours before getting to Accra'' adding that although the police were at their various check-points and at all traffic lights along the roads, the situation was not changing.
Madam Cynthia Mensah, a trader expressed her frustration about the heavy traffic in town and claimed she had to endure it since she had to reach Accra to be able to do her Christmas shopping.
GNA
By Doris Amenyo, GNA