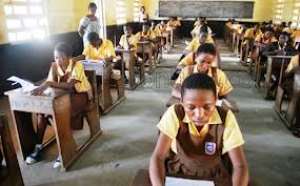 A mentoring programme to aid school children to make the right choices - avoid doing anything that would come back to haunt them one day, has been held at Mamfe-Akuapem.
In excess of 200 children drawn from the Mamfe-Akuapem Apostolic Junior High School (JHS), Methodist JHS and Presbyterian JHS benefitted.
The programme was organized by Mentoring for Youth Development Foundation (MENFYD) together with the Akuapem Kyidomman Council with the goal of employing practical and real life stories as useful tool to mentor the youth.
It was dubbed, 'Mamfe girl child empowerment day' and formed part of the 20th anniversary celebration of the installation of Osabarima Ansah Sasraku III, Mamfehene.
Some high profile personalities were on hand to share their experiences and life success stories with the young people, particularly, the girls.
Osaberima Ansah Sasraku, who is the Kyidomehene of the Akuapem Traditional Area, advised school girls to focus on their education, work hard to live their dreams and lift themselves out of poverty.
He asked that equal attention was paid to the promotion of both girl-child and boy-child education.
He cautioned the young boys against wasting quality time, playing games and betting.
Dr. Bettina Boohene-Andah, Founder of the MENFYD Foundation, announced what she called 'the story of our lives conference' targeted at getting at least 150 young women in the area into tertiary institutions.