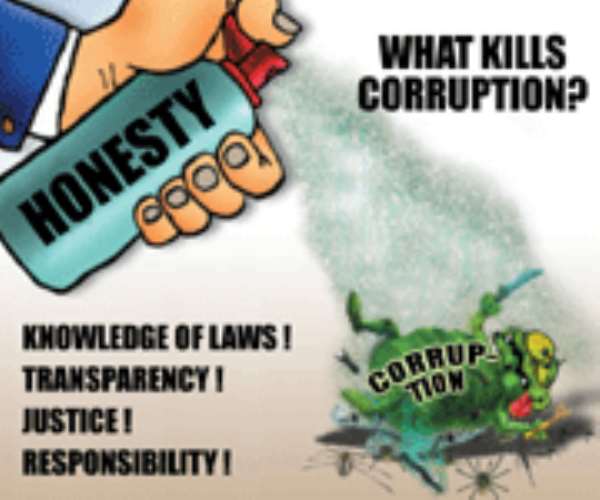 ....Ghana Integrity Initiative reveals Despite the Government's Zero Tolerance Policy on Corruption, a research finding has revealed that there is a high level of tolerance for corruption in Ghana. According to the findings, the Police Service tops (76.8%) the list of the 10 institutions highly affected by corruption today in Ghana, polling 76.8% of total respondents. Out of 900 respondents interviewed, 90.1% (9 out 10 respondents) considered corruption as a serious problem. The Ghana Integrity Initiative (GII), Local Chapter of Transparency International, with support from Partnership for Transparency Fund in UK, conducted an urban-based household corruption perception baseline survey in Kumasi, Sekondi-Takoradi and Accra-Tema from 10th to 26th March, 2005 to capture the views of 900 residents of households on their perception of corruption, personal involvement as well as other people's involvement in bribery and corruption, the underlying reasons for bribery and corruption, institutions and officials perceived to be affected by corruption and suggestions on how to deal with the problem of corruptions.
The Executive Secretary of GII, Mr Daniel Batidam, who presented the report in Accra said the Ministry of Education, placed second among the 10 institutions, cited by 31.5% as highly affected by corruption today in Ghana; Customs-CEPS 31.1% third; and the Judicial Service, 16.4% fourth.
The rest are Civil/Public Service, 16.4%: Ministry of Health, 15.6%; politicians (MP's, ministers), 8.7%; electricity company, 5.5%; Internal Revenue, 5.2%; and Ghana Immigration Service, 4.3% in that order respectively.
According to the findings out of the 900 interviewees, 61% representing responses for 'worse' and 'much worse' said corruption has worsened while 36.4% said corruption is getting 'better' and 'much better' in Ghana today.
For the underlying reasons for corruption, out of the 891 respondents who answered the questions, 76.5% cited 'low income' as the leading cause of bribery and corruption in the country; 67.3% said greed /get rich; 55.6% said 'high cost of living'; 45.6% cited 'poverty' and 38.2% said 'making ends meet (survival)'. Apart from greed/get rich quick, almost all the causes are poverty-related.
On personal involvement in bribery and corruption, according to the report, out of the 900 respondents, 67.2% said they had been involved in bribery and corruption. Specifically, 49.6% were victims whereas 17.6% were perpetrators. Mr Batidam noted that the lower figure is indicative of the fact that people are usually not ready to admit the offence.
The Executive Secretary pointed out that certain tendencies such as nepotism, cronyism and ethnicity, which are often inimical to development, appear to have eaten very deep into Ghanaian social fabric such that, nobody seems to see anything wrong with them.
The report recommended that government should strengthen existing laws to include the imposition of stiffer punishment, such as longer prison terms for perpetrators of corruption.
At the same time, the Public Service should institute a reward system for those who exhibit high standards of performance and commitment in duty in public office.
It called on Parliament, to as a matter of priority, pass the Whistleblowers Bill and the Freedom of Information Bill into laws, to encourage exposure of wrong-dong in the workplace as well as foster transparency in government and public administration.
Also, the report urged government, employers, Trade Unions and stakeholders to take steps to organize a national debate on income policy as a matter of urgency, since research findings suggest that low income and poverty-related issues are among the root causes of poverty and corruption.
Heads and representatives of various institutions, such as, the Ministry of Finance and Economic Planning, Internal Revenue Service, and Customs-CEPs were present at the presentation.