Ghana Airways: Fast-Track To Liquidation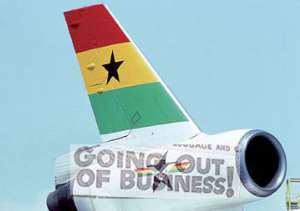 ...It's July ... Yet No Sign of GIA? The official liquidator of the country's distressed airline, Ghana Airways,Mr J.Harley, has stated that the process of liquidating the company will be fast-tracked to ensure that work on the exercise is completed by the end of the year.
He said a team was presently working around the clock to ensure that work was completed on time on the state of the company before any financial commitments were made.
In an interview, Mr Harley,who is also the Chief State Attorney at the Registrar General's Department, said a meeting between the official liquidator and the workers was being scheduled to inform them about the processes involved in the exercise.
Workers of Ghana Airways, at a news conference yesterday, called on the government to return to the negotiating table with them to finalise their severance package without further delay.
They also called on the government to pay their salaries, which had been in arrears since February this year.
Mr Harley said the plight of the workers had been taken into consideration "but we need to complete this process before we can know the balance,whether negative or positive, and before we make any pronouncement as far as the payment of any entitlement is concerned".
The need for the government,the sole shareholder of Ghana Airways, to liquidate it arose as a result of the airline's inability to meet its obligations to its creditors, resulting in its current state of bankruptcy. Presently, the airline is indebted to the tune of more than $160 million.
Mr Harley said he,as the official liquidator, had taken into consideration the number of years that most of the workers had served the airline and was,therefore, moved by their plight to ensure that the process was completed on time to settle them once and for all.
On his part,the Chairman of the Management Task Force of the airline,Mr G.A. Mate Azu, said it had always been the desire of the government to get the negotiations completed on time.
He said dialogue was the best means to reach an amicable settlement of any form of grievance and commended the workers for their preparedness to return to the negotiating table.