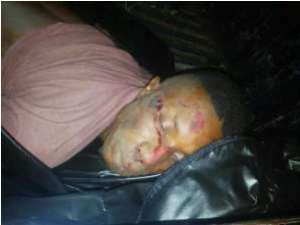 A gentleman believed to be in his early 30's was found dead on Sunday, December 17th at 9:00pm. This gory incident was discovered at the Tema Community 8 Bus Stop.
The duty officer DSP JJ Boye with personnel from the Regional MTTD and the Community one investigator found the lifeless body around 5.6 inches in height wearing a wine colored T-shirt long sleeve and a boxer shot lying in a pool of blood on the pavement at the bus stop.
On inspection, it was observed the whole left leg was cut off at the groin and the amputated leg was nowhere to be found.
There were several marks of assault on the face and all over the body.
The body has been deposited at the Tema General Morgue for further investigation.