Alhaji Short Congratulates The NPP On A Successful Extraordinary Delegates Conference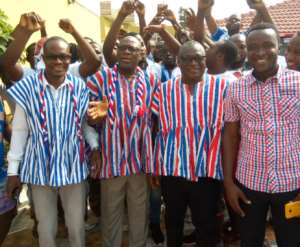 Yesterday again marked yet another historic era in our party. A day where we met and adopted for ourselves an amendment to our constitutional regulations which will strengthen the pillars of our democratic dispensation.
Indeed, the NPP as a party that stands on such tradition as the Dankwa-Busia-Dombo tradition, can only give out its best and that is what we demonstrated to the world and the entire citizenry of our country. I would like to congratulate the party leadership first of all, for the positive political precedent that through their leadership we have set.
The rest of the thanks go to our delegates and party members who travelled from far and near to grace the occasion of the Extraordinary Delegates Conference. In fact, the general comportment was overwhelming and we didn't hear of any issue of violence or chaos.
I am optimistic that the amendments we have made to our constitutional regulations will go a long way to bind us rather than tear us apart. May God help us all to always do the best for our party and the country.
Signed...
Nana Agyemang Daakyehene.
Deputy National Communication Director for NAYAS *(TEAM SHORT)*