Baako Rallies Support Against Abuse Of The Title 'Honourable'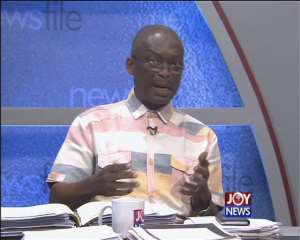 Kwaku Malik Baako has invited the Members of Parliament who suffered the venom of the Chief Justice for misusing the title honorable to join the campaign instead of brooding unnecessarily.
The Veteran journalist said the decision to stop the use of Hon. as a prefix to the names of MPs and ministers is long overdue.
The Chief Justice, Gloria Sofia Akuffo Tuesday chided Ernest Norgbey, MP for Ashaiman and Kwabena Mintah Akandoh, MP for Juaboso for using 'Honorable' as a title and prefix to their names in a writ filed by their lawyer.
The writ was to have Otiko Djaba's appointment as Gender Minister nullified for not undertaking the mandatory national service. The case was however dismissed because their lawyer did not possess a valid license at the time of filing the writ.
Speaking on Joy News TV's News File programme Saturday, Mr. Baako sided with the Chief Justice for rebuking the MPs because they should have known that 'Hon' is not a title to be used outside parliament but a way of addressing fellow members of parliament in the House.
"They should join the Chief Justice in the crusade against the misuse of Honorable as a title, instead of complaining that the document was prepared by their lawyer and not they themselves", Mr. Baako said.
Mr. Baako supported his argument by quoting the standing orders of parliament which spells out the context in which Honorable can be used.
The Standing orders state that "... all other Members shall be referred to as "Honorable" together with the name of their constituencies, that is, the Honorable Member for ...";
"…Where an Honorable Member has already been so described in a speech he may be further referred to as "my Honorable Friend" or "The Honorable Gentleman, Lady or Member".
Meanwhile, civil society and other parliamentarians including Andrew Mercer, MP for Sekondi have lauded the Chief Justice for her education against the misuse of the word [Honorable].
Story by Ghana| Myjoyonline.com| Oswald K. Azumah