Ridding Our Streets Of Stray Kids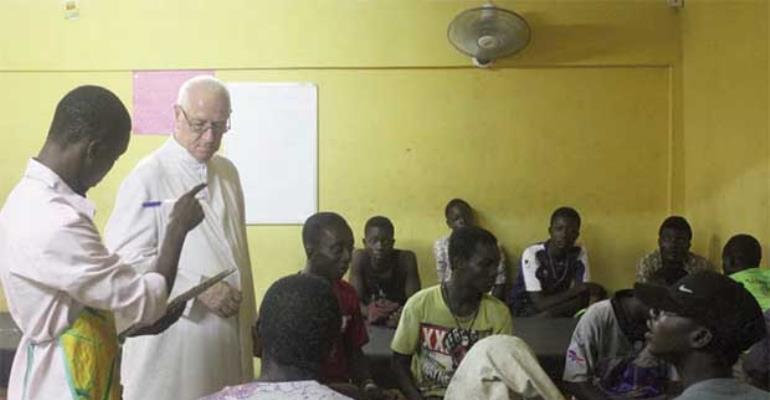 Good morning Jesus, good morning Lord, I know you come from Heaven above, the Holy Spirit sits on the throne, good morning Jesus, good morning Lord…. echoes through the walls of the Christ The King Parish Soup Kitchen that hosts the homeless and street children every day from 7:00am to 9:00am.
A few seconds later, the beneficiaries of the kitchen proceed to say the 'Prayer Before Meals' posted on the yellow walls of the room and then sit to have their meal for the day — yam and 'kontomire' stew.
"Today, over 25 people came to feed. We started the Soup Kitchen two years ago, since then, we have given over 2,000 meals to street children and the homeless every morning," Rev Father Andrews Campbell, a priest at the Christ The King Parish, says.
He adds the soup kitchen which started mainly as a social intervention to take care of the homeless by giving them one meal a day started attracting strong and intelligent young boys and girls who live on the streets of Accra.
"As we gave them food, more people started coming, then these young boys came, they come from Opeibea House, they come from Tema Station, they come here every morning for a meal," he explains.
The kitchen is manned by three social workers, including Daniel Obiri, who was on duty on the day of visit.
"We do not only serve the children and homeless food but also try to trace their homes and send them back home while we do that we try to engage them in creative activities like drawing," he reveals.
Seventeen-year-old Emmanuel Annan, who sleeps around the Osu Prison barracks at night, is originally from Ashiaman, a suburb of Accra but now lives on the streets of the business district of Accra because he got involved with some 'bad' friends who influenced him to stop school.
"I was 14 years by then in Sandema Senior High Technical School offering General Arts in my second year. We wanted to better our lives very fast, so I stopped school and we went in search of someone who would help us get rich. He was a security man in Portugal so he said like if we can come there through Libya but we returned when we got to Lagos," he states.
Emmanuel says his decision to travel to Portugal was unknown to his parents, so when he came back he decided not to go back home or school.
"I stayed in Chorkor and sometimes James Town but now I am at Osu," he recounts. Emmanuel was later introduced to the Soup Kitchen by a friend and has since being a good friend of Rev Father Campbell.
Sixteen-year-old Patrick Yeboah is another teenager who frequents the Soup Kitchen every morning to get a hot meal.
His story, similar to Emmanuel's, was due to advice from friends. He says he left his home at Nungua, where he stayed with his grandmother to visit a friend at Madina during school vacation and for reasons best known to him decided not to go back home.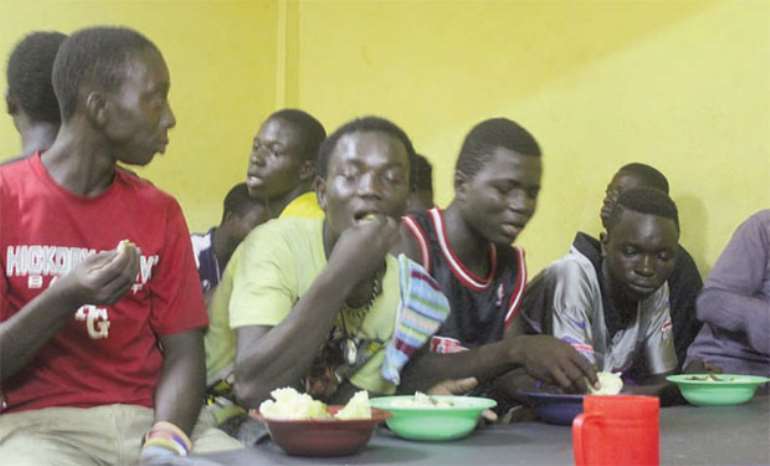 "We have a place we sleep at Katamanto. At night, we go for our nets and set it under the shops to sleep. When people come to sack us, we run to Tema Station," he narrates.
Patrick says he had gone home once since he left about six months ago but has not returned. He lives his life cleaning the windscreen of cars which fetches him something to survive on for the rest of the day.
"When I got home my grandmother cried, she asked me whether I was okay and I said yes so I stayed with her over the night and left again," he says.
Streetism Census
A 2011 census conducted by the Social Welfare Department of the Ministry of Gender Children & Social Protection on street children in the Greater Accra Region discovered about 60,495 children lived and worked on the streets of Accra.
The census also showed a particular concentration of street children in the metropolis with approximately 50,000 children living on the streets of Accra.
Other areas in the region with significantly high numbers of street children are the Ga East Municipal District which recorded 1757 street children and Ga West Municipal District, specifically Amasaman with 939 street children.
Ashaiman Nungua and Teshie recorded 5,768 street children and Dangme West, Shia Osudoku, Prampram and Ningio recorded 2,031 street children.
Family Breakdown
Rev Father Campbell says the social workers at the 'Kitchen' have managed to send back home some of the children after they were interviewed, with others going back to continue their education but he says some children come back due to the breakdown of the family system.
"You see the family doesn't make them feel welcomed, the family doesn't take care of them, the family system is breaking down in Ghana.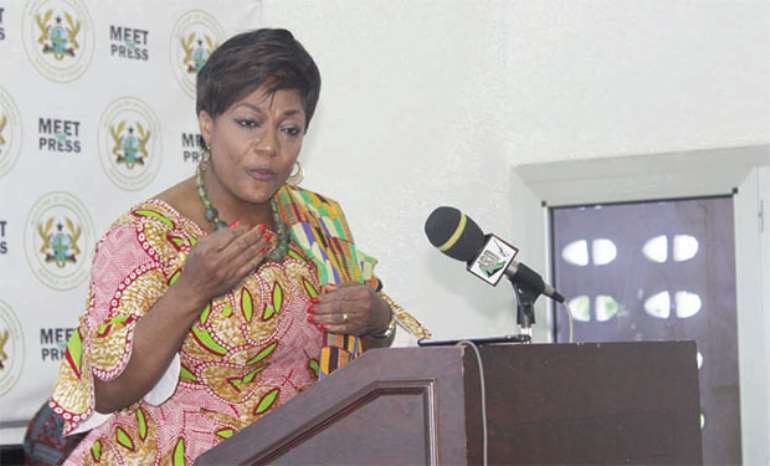 Otiko Djaba
We have to tackle the home problem, this is one of the main challenges we have in Ghana," he bemoans.
Rev Father Campbell explains that interactions with the children show that they want to go back to school and their homes but they have no support system to help them.
"Parents don't care about them, maybe broken family, one parent family, a divorced family. ….you are with a new stepfather, and you get lack of education, lack of food and the kids having to support themselves. Some of the kids here are in primary junior and senior high schools, so this is one of our problems," he adds.
He states that the centre providing one hot meal a day is not enough to reintegrate them back to their families.
"We giving them bread every morning, which is not enough; we need to move to the next step. That is why we need the help of the government, and we need to see what are plans like for the next step, when we get them off the streets where are we going to put them, what are we going to do with them?" he queries.
Operation Get Off the Street
The Ministry of Gender, Children & Social Protection, in collaboration with the United Nations Population Fund (UNFPA), a few months ago launched a comprehensive action plan to reduce streetism in the country.
Dubbed 'Operation Get Off the Street for a Better Life', the initiative is intended to address streetism which is a serious threat to national security and development.
The project to be implemented by the Children's & Social Welfare Departments in three phases will identify and deliver the core set of basic services to secure the reintegration of street children and strengthen policies that address the causes of streetism.
It will also develop mechanisms for coordinating activities of organisations involved in delivering services to street children and conduct advocacy activities to lobby support in addressing the phenomenon.
Madam Otiko Afisa Djaba, Minister for Gender, Children & Social Protection, says the department will be implementing the project by first collecting data on street children with identified children taken back to school with the ministry's support.
"We will embark on aggressive and effective awareness grassroots education and media programmes to sensitize the general public on the dangers and extent of damage caused to the victims, their families and the country," she points out.
She adds that temporary shelters will be provided under the project for the children and capacities of counsellors, social workers and care-givers built, after which the implementing authorities will rescue the children.
"When we identify their families, we will hold discussions with the parents, then we train the parents to also enable them provide the specialised care their children will need," she states.
Madam Afisa Djaba further discloses that core services such as training in productive skills, formal and non-formal education as well as the expanded implementation of the social protection programmes for vulnerable children, including persons with disability, will be undertaken for those whose homes cannot be traced.
"The long-term strategy includes strengthening of the legal and policy framework, institutional structure that provide child protection services and welfare and inter-sectoral coordination in child protection issues," she indicates.
Way Forward
Rev Father Campbell believes the country's social workers need to move from their offices and get on the streets where the real work is.
"I think we need to use our social workers more, the three social workers I have here are very hard working. We have got many social workers in Ghana but they should come out of their offices and work," he says.
He also suggests the creation of big camps outside the purview of the cities, where street children will be housed and trained and start training them there, "giving them an education there might be an ideal solution."
"They will stay at the camp if you motivate them because if you talk with them they want to go back to school. They are not happy living on the streets," he adds.
As the teenagers help Daniel Obiri to tidy up their 'canteen' after eating, Emmanuel says, "I told Father Campbell that I want to go back to school so he sent me to St Martin's Senior High School and they have assured me I will be going back to school next term so I am waiting till January.
"When I go this time, I will complete it," he says.
By Jamila Akweley Okertchiri