17th Business Platform Meeting Of GhanaVeg Held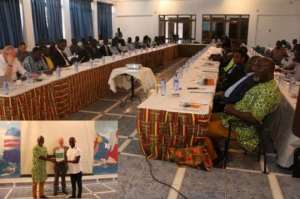 Management of GhanaVeg Programme, which seeks to improve and sustain vegetable productivity in Ghana, has held its 17th Business Platform Meeting in Accra.
The Business Platform Meeting brings together key sector actors to brainstorm and table issues that should inform the activities of the GhanaVeg Programme, an initiative supported by the Netherlands Embassy.
Papa Kow Bartels, Team Leader, Industrial Sub-Contract and Partnership Exchange, Ministry of Trade and Industry said the horticulture industry held a lot of potential for growth and investors to venture into that area of farming.
'The horticulture sector is opened for investment, especially exports and involve in cooling and knowledge transfer,' he added.
The 17th Business Platform Meeting was on the theme: 'Investing in Ghana's Horticulture Sector.'
Papa Bartels said the sector needed agronomists to deliver quality services and transform the sector to improve on the economy.
He said government was looking at industrial transformation to easy up doing business in the country.
He, therefore, called on stakeholders to take advantage presented in the horticulture sector to improve on their living conditions and contribute to the growth of the economy.
On the lifting of the ban on vegetable export, Dr Ken Fenning, a Researcher at the University of Ghana Soil and Irrigation Research Centre urged farmers to comply with quality and safety standards in line with the European Union market requirements.
He said commended government for upgrading the sanitary and phytosanitary systems and the equipping of the Kotoka International Airport to facilitate exports of vegetables to the EU market.
He said one other recommendation was to enhance intense research activities on the vegetable sector.
He said stakeholders have designed a roadmap strategy, which needed to be adopted to put in preventive measure like monitoring and there should be an enhanced dissemination of knowledge on pest reduction in vegetables.
The event was used to launch the Ghana Green Label (GGL) scheme website, which seeks to provide information on the scheme for certification.
The Ghana Green Label is aimed at promoting safe food production, postharvest handling and distribution using good and environmentally sustainable agricultural practices.
Mr Sam Quarcoo, the Chairman of GGL, said the scheme was also to assure availability of locally produced high quality, safe and affordable fresh fruits and vegetable in the Ghanaian market.
He said the website: www.ghanagreenlabel.org would also have information on application for certification.
GhanaVeg used the opportunity to present certification to 22 Agronomists through the Wageningen University and Research, Netherlands, after they completed the Agronomy Training of Trainers course.
The Agronomy training has been designed to improve farmer productivity and post-harvest management.
The one-year in-depth training course focused on six key areas including seedling production, crop protection, spray techniques, irrigation and fertilization, production planning and adult learning.
The event also hosted the fourth trade mission delegation from the Netherland to Ghana to seek investment opportunities in the sector.