MP Unhappy With Attempts To Sabotage GM Foods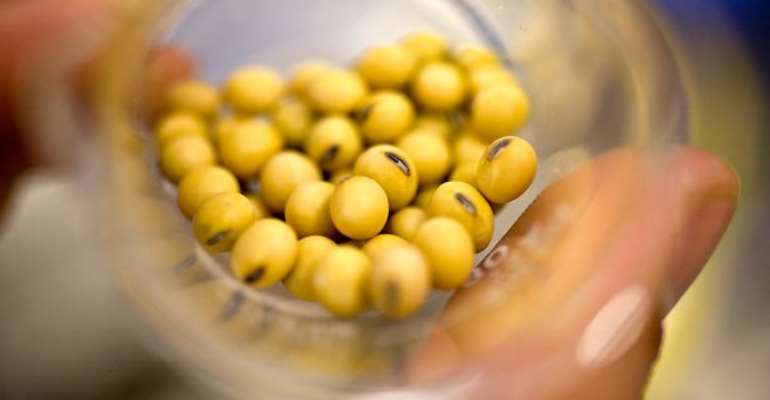 Member of Parliament's Agric Committee, Yaw Frimpong Addo, has lashed out at pressure group Food Sovereignty Ghana over its efforts to frustrate the introduction of GM foods into the country.
According to the MP for Manso Adubia, there is no basis for a court action that the group has instituted against genetically modified foods at the Human Rights Court.
"I am even surprised they have taken that line of action. Because it is just like somebody wanting to bring scientific innovation into the country and you have decided to remain in your old way of doing things. If you say you don't want it fine. But if you want to truncate the whole process, it's unfortunate," Mr FrimpongAddo said.
The Human Rights Court in Accra will on Wednesday continue hearing of the case.
According to court documents dated 23rd November 2017, Food Sovereignty Ghana and three other groups are seeking declarations on whether required processes and laws have been adhered to in the ongoing plans to commercialise GMOs.
The case is against the National Biosafety Authority (the government biosafety regulator) and four others including the Ghana National Farmers and Fishermen Association.
The plaintiffs are seeking a declaration on: "Whether or not the defendants have observed the critical domestic and international laws of risk assessment and management in relation to the release and commercialization of Bt cowpea and rice in the country."
In February 2015, Food Sovereignty Ghana filed a suit at the Human Rights Court seeking a declaration that "in approving the release and commercialization of GMOs, the government had not met the requirement of the law on major issues of risk assessment and risk management."
They went on to apply for an interlocutory injunction to restrain government from approving, releasing, and commercializing GMO rice and cowpea.
The request for an injunction was dismissed by the court.
The Council for Scientific and Industrial Research (CSIR) is currently undertaking trials that will allow for the commercialization of genetically modified cowpea (Bt cowpea) and NEWEST rice. The novel cowpea is largely resistant to the destructive pest, Maruca pod-bearer and the NEWEST rice is nitrogen and water efficient, as well as salt tolerant.
Director of Communications of Food Sovereignty Ghana Edwin Kweku Andoh Baffuor says they will prove to the court that GMOs will not help Ghana's socio-economic development.
"This is the beginning of the substantive case to show that Ghana does not need GMO and the proposals that have been made do not equate to Ghana needing GMOs… It's something that we should not entertain," he insisted.
But the MP who is also chairman of Government Assurances Committee in Parliament disagrees.
"I am not for or against GM foods but those who want it should be allowed to have it… We need innovations in agriculture. If I want a new variety and you tell me I should not plant it, will you feed my children for me if I need money?" he quizzed.
"The fertility in all our lands are gone. Pests are destroying crops. If scientists have developed a variety with which farmers can get 10 bags of maize from one acre, and you want them to still be growing the one they can get only 4 bags, then you are not being fair to those people," Mr Frimpong Addo added.
The court action has also drawn reactions from scientists and farmers. Daniel Osei Ofosu who is Research Scientist at the Biotechnology and Nuclear Agric Research Institute (BNARI) and Country Coordinator of the Program for Biosafety Systems (PBS) is not surprised the legal action has been instituted.
"For the scientific community, we are not perturbed because all new sciences have faced challenges in the past, including computers and immunization. But posterity has judged us that these new technologies are actually for the benefit of all mankind and so we are not perturbed. So, we will triumph over the anti-GM movement," he told Joy News in an interview.
The Ghana National Farmers and Fishermen Association says it looks forward to meeting the plaintiffs in court to argue out the issues. "They are just making a lot of noise because they don't have any facts. They are not farmers. They are also not in the business of farming. They are just a civil society organisation that is linked to anti-science groups that are fighting science and evidence-based issues relating to agriculture," John Awuku Dziwornu who is an executive of the association said. "Ghana is abiding by all the international protocols.
They should go and read and they will understand," he added.
Mr Dziwornu is however worried that the repeated efforts to frustrate the process of GMO commercialization in Ghana are stalling the country's development.
"GM technology can help grow drought-resistant crops, provide more nutritious food, and stop the destruction of food by pests. This technology is crucial to the achievement of food security. The groups trying to stop it are stalling the socio-economic development of Ghana. They must stop this," Mr Dziwornu said.