Prostitution On The Increase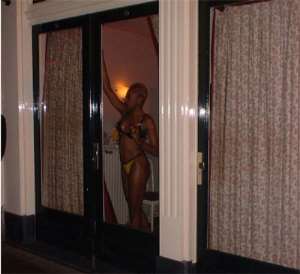 In spite of massive campaign against the spread of HIV/AIDS menace, the rate at which some people are trooping into prostitution (commercial sex) in some parts of the country is alarming.
An example in Kasoa, which has become a save heaven for most prostitutes, as four or more prostitutes, as four or more prostitutes sleep and receive their clients in single rooms - "doing the thing."
This was made known to the Accra Daily Mail in an exclusive interview with Mr Leo Arthur Yarkwa, the Project Manager of African Enterprise-Ghana, a non-governmental organisation (NGO) which seeks to rehabilitate prostitutes and integrate them into society. Mr Leo Arthur appealed to the government not to legalize prostitution. He contended hat if prostitution is legalized, the situation will be out of hand. "If the government makes any attempt to legalise prostitution, it will have a shock of its life and the HIV/AIDS endemic will be tripled within a year," he stressed.
He indicated that his NGO has been able to reach almost 500 prostitutes.
Mr Leo Arthur revealed that about 70-80% of the commercial sex workers his NGO spoke to are HIV/AIDS positive. He therefore called on the police and other NGOs who are into campaign against AIDS to intensify their campaign in these areas; Kasoa, Agbogloshie; Kwame Nkrumah Circle, Danquah Circle and Togo Embassy, known as the "red spot of flash light."