ECG Restores BOT Vending System, Customers Vending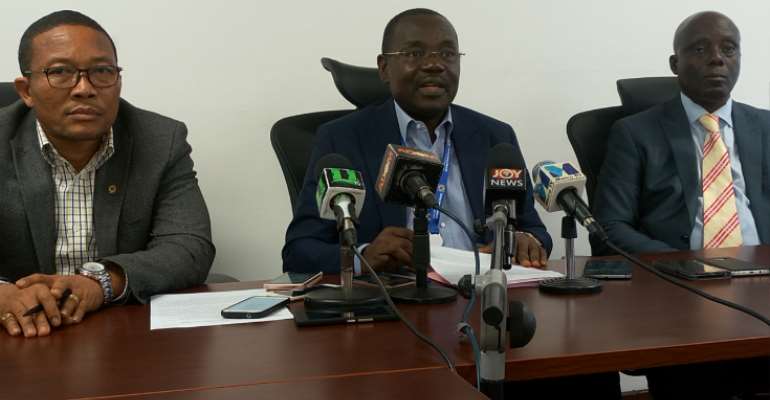 The Managing Director of the Electricity Company of Ghana (ECG), Ing Samuel Boakey-Appiah has stated that they have virtually resolved the challenges they faced with the Build, Operate and Transfer (BOT) payment system which affected about 30,000 customers in Korle bu, Dansoman, Kaneshie and Achimota districts.
After a series of press briefings, the Managing Director on Monday 11th December told the press that they have substantially resolved the BOT challenge to allow customers to vend.
"We wish to state that we have substantially resolved the BOT challenge. Customers should therefore visit their District Offices (Kaneshie, Korle-bu, Dansoman, Achimota), to do normal business with ECG. BOT customers should please note that the faulty cards are reactivated only once, and after the reactivation, you can purchase electricity at all vending points," he stated.
ModernGhana's check on the grounds reveals the exact situation as customers were busily purchasing electricity at the vending points after days of living without electricity.
Mr. Boakye-Appiah further assured that after an evaluation and review of the situation and processes, his team will put in place contingency measures to mitigate any future occurrence.
According to him, they worked throughout the weekend, Saturday and Sunday, from morning and closing after midnight on both days.
He added that by Saturday and Sunday, all the four affected Districts were working to reactivate faulty cards which will enable customers to purchase electricity.
"By Sunday evening, when I went round, there were virtually no queues. The few customers who were waiting under tents were waiting for their cards to be replaced, as we had started replacing some of the cards, or waiting to be called for collection," the MD intimated.
Mr. Boakye-Appiah stressed that his outfit is currently mopping up some faulty cards that needed outright replacement and those ones that are due for collection at their offices.