Johnson & Johnson Unites With Key Local Organisations To Fight HIV/AIDS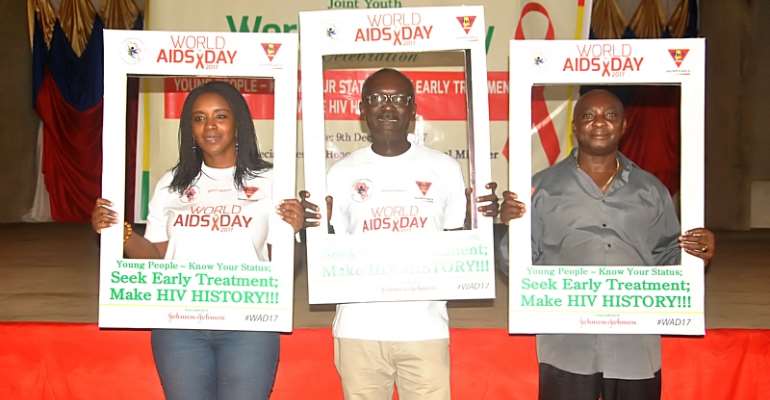 The fight against HIV/AIDS received a major boost as Johnson & Johnson joined forces with Ghana AIDS Commission, Planned Parenthood Association of Ghana and the Youth Action Movement toengage the local communities of Koforidua in targeted HIV/AIDS related activities, in commemoration of World AIDS Month.
The United Nations declared the 1st of December as "World AIDS Day" and it is commemorated as such worldwide. Activities in this regard have over the years been expanded to carry on throughout the month of December.
This year's activities, sponsored by Johnson & Johnson, and executed in collaboration with Ghana AIDS Commission, Planned Parenthood Association of Ghana and the Youth Action Movement, were geared at tackling the pandemic from various dimensions ranging from awareness creation and education, voluntary counselling and testing, preventative measures demonstration, educational sessions on treatment and an exhibition on available HIV/AIDS services, amongst others. The objective of the event was to reignite conversations around the HIV/AIDS epidemic and mobilise the youth and the community to "take the power back into their own hands".
Speaking at the event, Johnson & Johnson's Regional Execution Lead (Global Public Health) for West Africa, Lynda Arthur, highlighted Johnson & Johnson's commitment to fighting the scourge of HIV/AIDS and the company's efforts in this regard.
"As one of the world's largest healthcare companies, Johnson & Johnson has a legacy of combining innovation, science and ingenuity to tackle some of the most pressing public health challenges that we face today," Mrs. Arthur said. "HIV and TB are at the forefront of these for our Global Public Health strategy, which focuses on addressing infectious disease threats and helping the most vulnerable in the world."
Johnson & Johnson uses an end-to-end approach, which includes early stage disease-specific research, product development, manufacturing and distribution, and education and training resources, to address health challenges in partnership with various governments' ministries of health, non-governmental organisations, community leaders and other influential stakeholders.
The company has a number of programmes aimed at creating awareness in order to prevent the spread of HIV. From a treatment perspective Johnson & Johnson works tirelessly to bring innovative HIV medicines - antiretroviral(ARVs) - to resource-poor settings and make them accessible to patients in these areas.
Despite having made advancements in HIV treatment, Johnson & Johnson believes that the hope for a world without AIDS lies in preventing the disease in the first place. In this regard the company recently announced a clinical study which will test a preventative vaccine in 2,600 women in five sub-Saharan Africa countries (South Africa, Zambia, Zimbabwe, Mozambique and Malawi). The mosaic-based concept is designed as a "global vaccine," potentially capable of preventing a wide range of viral strains responsible for HIV.
"This is just one of the many ways in which we are using technology and innovation to drive our vision to make HIV history," said Arthur.
Speaking at the event, the Youth Program Coordinator of Planned Parenthood Association of Ghana, Ismael Selassie called for more support and commitment of all stakeholders in arresting the HIV menace. "Continuous support, through information, training and sustained awareness creation at all levels, is required in arresting the pandemic", he noted.
The celebration, which was under the theme "Know your status, seek early treatment, make HIV History" was attended by representatives of the Eastern Regional Minister, New Juabeng Municipal Chief Executive,Director General of the Ghana AIDS Commission, the Regional Coordinator of the National Youth Authority, Regional National Population Council Director, the Regional Adolescent Health Officer, Regional Director of Education, Municipal Director of Health, President and Members of PPAG-YAM and other stakeholders.