Hawa speaks on presidential ambition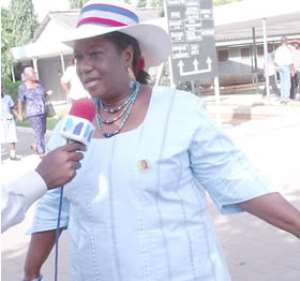 Wa, July 17, GNA- Madam Hawa Yakubu, former Member of Parliament for Bawku Central, on Saturday said her immediate priority was to help strengthen the NPP, to enable the Party to retain power in the 2008 elections, and not to project herself as a presidential aspirant.
She said the NPP had recently gone through difficulties and it would be improper for any party member to start thinking of how to contest presidential election on NPP ticket.
Madam Yakubu was speaking to newsmen at Wa after donating cash and medical equipment to two institutions in the town. She donated 500 dollars to the Youth Alive Orphanage and surgical instruments to the Wa Regional Hospital.
Madam Yakubu also presented one million cedis for the purchase of footwear for needy inmates of the orphanage.
She promised to donate 10 pieces of wax prints and five sewing machines to the orphanage, after interacting with the inmates there. Madam Yakubu said the difficulties the party was going through were challenges and a wake-up call for party members to work hard to consolidated the gains of the NPP.
She called on any Ghanaian who had any evidence of corruption against any public official to use the appropriate channels to fight it, instead of resorting to wild allegations.
Madam Yakubu charged NPP supporters to stand firmly behind the Party and not cave in to the pressures of their political opponents who were bent on eroding the confidence Ghanaians had in the NPP government.