AUCC Graduates Urged To Make A Difference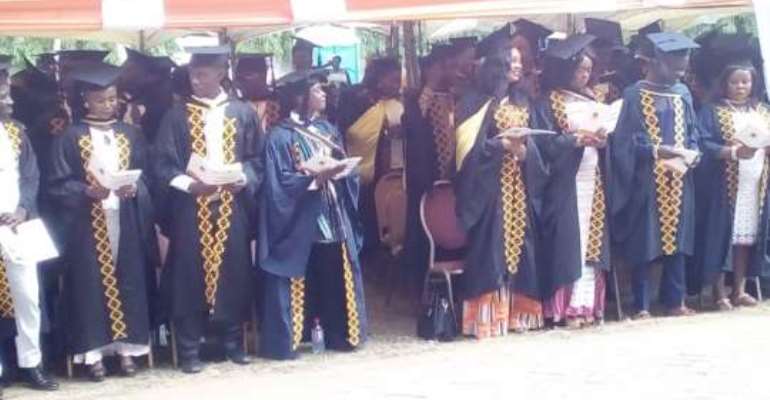 Dr Koryoe Anim-Wright, President of the African University College for Communication (AUCC), has urged the graduands of the University to make good use of their knowledge acquired and make a difference in their field of work.
'Your degree should be viewed as an opportunity for you to do better, to change lives, to make a difference and as well find solutions to today's pressing issues,' Mrs Anim-Wright said.
Mrs Anim-Wright said this in Accra on Saturday when she addressed graduands of the University at the 14th graduation ceremony of which 409 students graduated in Bachelor of Arts in communication studies and Bachelor of Science in business administration.
She urged them to use their knowledge to serve the society saying ' give voice to the voiceless, volunteer to read in your communities, do your part to combat illiteracy, offer talks on women's empowerment and civil rights to curb abuse of all forms'.
Mrs Anim-Wright urged the the graduands to remember that knowledge was not only acquired in the classroom, but by experiencing life, learning from their life experiences and using their experience to improve lives.
She said the University launched the Richard Jonah Entrepreneurship and Academic Enhancement Programme to provide students in the Jonah School of Business with access to leading Ghanaian entrepreneurs for mentorship.
She said the programme is expected to create opportunities for self-employment ventures, facilitate team-building skills and ignite creativity and entrepreneurship traits in students.
The President of the University said their outfit had partnered with Jekpra Ventures, a waste management company to engage in yearly clean-up activities in the Adabraka community.
She said the Communication students of the University had also partnered with the Adabraka Chief to conduct research on social vices in the area especially unemployment among the youth.
Dr Nii Kotei Dzani, Group President of Ideal Finance has called on graduands to be innovative and develop entrepreneurial ideas to be relevant in the global market.
'The engine of growth is through entrepreneurship. I urged you to think outside the box and come out with a realistic ideas for your personal development', he added.
Dr Dzani advised them to exhibit high sense of integrity in their field of disciplines to attract people to them since the success of a business venture is hinged on honesty and trust.
He called on government to develop an entrepreneurship policy for its indigenes to create job opportunities for the citizenry and reduce the rate of unemployment.
Mrs Emelia Okyerebea Odame, graduate student, Sam Jonah School of Business-Accounting option, won the most outstanding student, Ms Sahadatu Suraj won the best student in banking and finance, Ms Rosemary Lartey won the best student in Human Resource Management, while Mr Emmanuel Adotey Annan won the best student in marketing.
Mr Stephen Dela Attuh won the best student strategic communication, Mr Isaac Ayisi Asare won the best student in development communication, Nkansah Obeng emerged the best student in Visual Communication while Mr Charles Boateng Acheampong won the best student in journalism.