Ahyiresu parents undermining education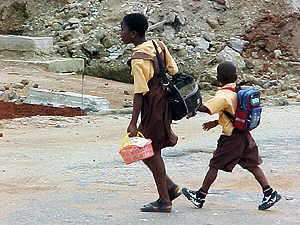 Ahyiresu (Ash), July 17, GNA - Parents at Ahyiresu, Abofrem and Kwamedwuma-Sreso in the Atwima-Mponua district have virtually declared every Friday as holiday for the school children by engaging them in trading activities at the Bibiani weekly market.
Mr. Augustine Kyei-Frempong, the Ahyiresu assemblyman, who disclosed this, said the parents also engage the children, especially the girls, to work on their pepper farms for a fee during school contact hours to raise income for the family.
Speaking at the launch of the Girl-Child Week celebration at Ahyiresu on Thursday, Mr Kyei-Frempong said the practice is seriously undermining the provision of quality education for children in the area. The celebration was under the theme, "Girl-Child Education: A Tool for National Development".
Launching the week, Mr Eddy Obeng-Darko, the Atwima-Nwabiagya District Director of Education, said it is the responsibility of parents to give equal education opportunity to their female children.
Mr Obeng-Darko, who also has oversight responsibility over Atwima-Mponua district, advised parents to adequately commit themselves to the proper upbringing of their children and also guide and guard them against immorality, indiscipline and other social vices.
He said the Nwabiagya and Mponua district assemblies have instituted various schemes to motivate brilliant but needy pupils, especially girls from the most deprived rural areas to attain higher academic laurels and advised the parents to take advantage of it. Mrs Rosemond Asare-Bediako, the District Girl-Child Education Co-ordinator, condemned the attitude of some parents who force their teenage girls into early and unprepared marriages.
She said the increasing reported rape cases involving teenage girls have resulted in unwanted pregnancies and increased street children. Nana Abena Kwabena, the Ahyiresu Queen Mother, who presided, cautioned parents against the practice of encouraging their teenage girls to engage in prostitution to raise money for the family.