Slow Start Of 4th Quarter Affects German Exports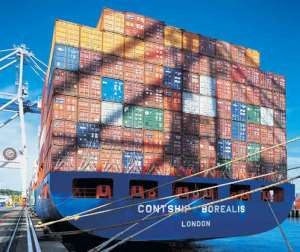 Accra, Dec.08 - (dpa/GNA) - German exports posted a surprise fall in October adding to signs that Europe's biggest economy had a slow start to the fourth quarter.
Exports dropped for the second consecutive month in October, falling by 0.4 per cent from September when they contracted by a similar amount, the Federal Statistical Office (Destatis) said on Friday.
Meanwhile, October imports climbed 1.8 per cent after dropping by 1.1 per cent in September, Destatis said.
The result was to lead to a narrowing of Germany's seasonally adjusted trade surplus to 19.9 billion euros (23.4 billion dollars) from an upwardly revised 21.9 billion euros in September.
"The German trade data has brought more evidence that the entire economy started the fourth quarter on a weaker footing," said ING Bank economist Carsten Brzeski.
Analysts had forecast a 1-per-cent gain for both imports and exports.
Exports rose 6.8 per cent in October when compared with the same month a year earlier. Year on year, imports were up 8.3 per cent.
Earlier this week, figures released by the Economics Ministry showed industrial production contracted by 1.4 per cent in October after a set of public holidays encouraged workers to take extended weekends.
However, monthly industrial order books grew by 0.5 per cent in October after increasing by an upwardly revised 1.2 per cent in September, thanks to solid demand from outside the eurozone, the ministry said.
GNA