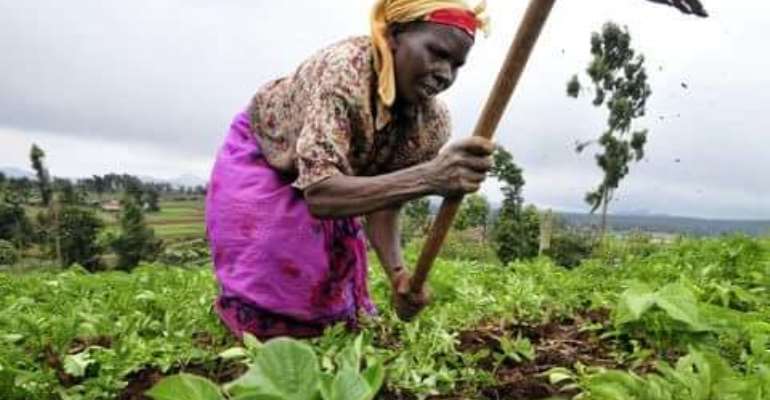 A colourful ceremony has been held in Obuasi to celebrate hardworking farmers in the Municipality.
The programme which was held in Jimiso-Kakraba, a farming community in the Obuasi Municipality brought together Chiefs, Past Municipal Chief Executives, the Member of Parliament for Obuasi East Constituency, Heads of Institutions and farmers to witness the occasion.
Addressing the gathering, the Member of Parliament for the Obuasi East Constituency, Dr Patrick Boakye Yiadom congratulated farmers for their role in the nation's development. He said the theme for this year's celebration "FARMING FOR FOOD AND JOBS" is in line with the government's flagship programme, PLANTING FOR FOOD AND JOBS.
The lawmaker also took time to explain the benefits of the planting for food programme.
He said, government, in its resolve to improve agriculture, will involve 500,000 farmers and 2,700 extension officers in the ensuing years.
Dr Boakye Yiadom threw a challenge to past MCEs, the current MCE and leaders of Obuasi to come together and consider having an alternative to the goldmine which has been the mainstay of the people of Obuasi for more than a century.
He however, suggested agriculture as the best alternative to the gold mine.
On his part, the Municipal Chie Executive, Hon. Elijah Adansi Bonah felicitated farmers within the Obuasi Municipality for their tremendous contribution to the Municipality and assured them of the President's support.
He also seized the opportunity to explain the District Center of Agriculture Commerce and Technology (DCAT) which he said, is the Local government Ministry's version of the planting for food and jobs programme.
The programme he said, would involve crops which the districts have a competitive advantage over, with the main intention of preparing the districts for industrialization.
The Municipal Agric Director, Mr Augustine Antwi said this year's edition which is the 33rdis very significant looking at the commitment on the part of the ruling government to improve the economy relying heavily on Agriculture.
At the end of the day, twenty- nine (29) farmers were awarded Mr. Samuel Edmundson Appiah of Asonkore/ Ayaase crowned the Municipal Best Farmer. He took home a tricycle and other prizes. Mr Emmanuel Sosu and Mr Francis Atta took home the 2nd and 3rd prizes respectively.