Ghanaians urged to help curb spread of AIDS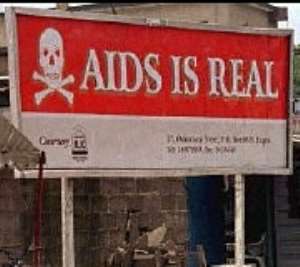 Bonsuaku (C/R) July 17, GNA - The District Chief Executive for Awutu-Effutu-Senya, Mr. Solomon Abban-Quaye, has called on Ghanaians to abandon practices that promote the spread of HIV/AIDS. He appealed to the people to have compassion on HIV/AIDS victims to prolong their lives.
Speaking at a forum organised by the District Assembly on Friday at Bonsuako, Mr. Abban-Quaye, said records from the Winneba Government Hospital indicated that 66 HIV-positive cases were recorded at the hospital in the 2002.
He said the number increased to 93 and 103 in 2003 and 2004 respectively, adding that, the situation was alarming and called for a joint action to curb the spread of the disease.
"We have to disseminate information on HIV/AIDS to encourage behavioural changes to stop the spread of the pandemic". Mr. Abban-Quaye urged the youth to refrain from social vices including pre-marital sex, drug abuse and indiscipline. He urged parents to take the education of their children seriously and to provide them with the necessary materials and support to encourage them to stay in the classroom.
The DCE also advised parents in the area to help in stopping child trafficking especially to Yeji for fishing.