December 8, 2017
|
General News
Akufo-Addo Joins Ghanaians To Thank God For 2016 Elections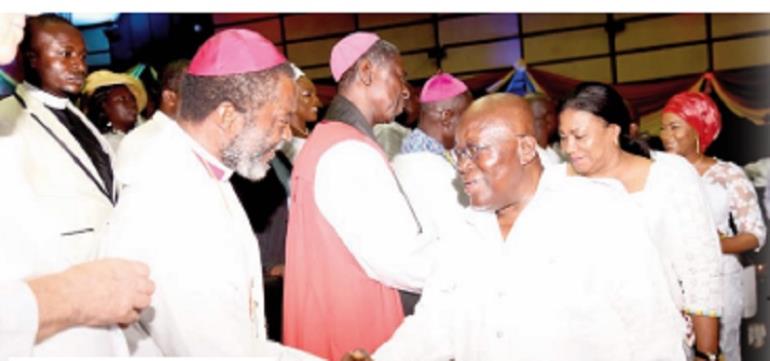 Ghanaians from all walks of life with different faiths and political persuasions gathered at the Accra International Conference Centre (AICC) to thank God for successful and peaceful elections in 2016 – which saw the opposition New Patriotic Party (NPP) candidate, Nana Addo Dankwa Akufo-Addo, becoming president after three fruitless attempts.
The elections sent John Mahama's National Democratic Congress (NDC) into opposition in a historic and humiliating defeat, and in view of the relative peace in the country, the political gurus thought it wise to hold a national thanksgiving service to praise God.
Present were some powerful men of God from both the orthodox and charismatic churches spread all over the country, as well as key and influential members of the 'elephant' (NPP) family.
The worshippers donned mostly all-white apparel and held miniature Ghana flags.
Also present were Acting National Chairman of the NPP, Freddie Blay; Acting General Secretary, John Boadu and members of the legislature, judiciary and the various security agencies.
The theme for the occasion was, "O magnify the Lord with me and let us exalt His name together," (Psalm 34:3).
Speaker after speaker prayed for God's guidance and protection for the government and people of Ghana.
It was all smiles and cheers when President Akufo-Addo was invited on stage to deliver a short message as he danced to his favourite 'Oye' song.
Moments later, his wife, the woman he prefers to call 'my lady Rebecca,' was asked to join the husband on stage, attracting a huge applause from the crowd.
By this time, Vice President Bawumia and his wife, Samira – who had been tapping their feet, nodding their heads and waving to the song in their seats – were only waiting for an opportunity to join the fray.
They could not but jump to the opportunity when they were asked to join the President and the First
The stage was set for President Akufo-Addo to deliver his address in which he thanked God for the gift of life and His continued blessing, while holding on strongly to his campaign mantra – "The battle is the Lord's."
Before the elections, Mr Akufo-Addo had always insisted, "The battle is the Lord's" and continues to claim, "The battle still remains the Lord's."
He was of the firm belief that it was not by his might or strength of any individual or group of persons that brought him to power, but the good Lord.
President Akufo-Addo prayed for wisdom, strength, compassion and humility to be a good leader for the Ghanaian flock whose destinies have been entrusted in his hands.
President Akufo-Addo prayed for all fallen heroes, especially his childhood friend and brother in the struggle for power, the late former NPP Chairman, Jake Otanka Obestebi-Lamptey, who could not wait to see an Akufo-Addo-led NPP government as had always been his prayer before his life was cut short by illness.