December 7, 2017
|
Business & Finance
Processing Plantain Into Flour: 23 Farmers Receive Training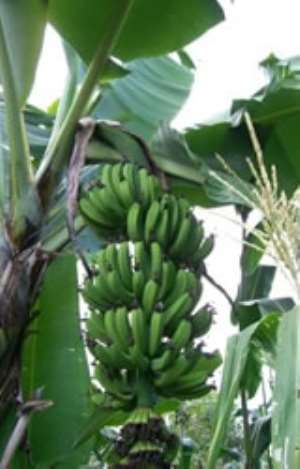 Twenty-three (23) selected farmers from across the Asante-Akim South Municipality, majority of them, women, have been trained to process plantain into flour as part of the drive to reduce post-harvest losses.
There is also the high point of adding value to the food crop to raise the income levels of the farmers.
The training programme was organized by the Women in Agriculture Development (WIAD) of the Food and Agriculture Ministry (MOFA).
The municipality is a major plantain growing area and Mrs. Sandra Asare, Municipal Officer of WIAD, said the intervention would significantly help to prevent the plantain from getting rotten.
Processing it into flour would go a long way to assure the farmers of a good price. They would not be forced into selling the plantain at give-away prices.
Mrs. Asare said it was heartbreaking to see a good harvest bring more misery to the farmer as prices tumbled.
She indicated that they would no longer be at the mercy of middlemen and would now bargain from the position of strength.
She noted that their income would significantly improve and said plantain flour was also not only nutritious but a multi-purpose product.
Ms. Sarah Koi, one of the farmers, applauded WIAD for the training, something she termed as 'long overdue'.
She said 'we have suffered for far too long due to limited options to market our produce.