December 7, 2017
|
Poem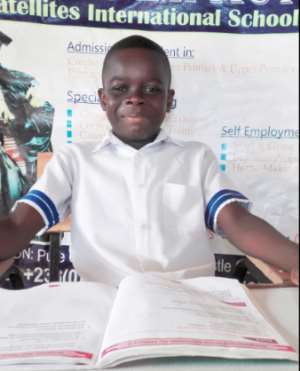 Greedy men defiling the Earth,
Looting buried treasures
Discovering nature's wealth
Buried underneath the soils
I hear the earth cry for salvation
From the sharp edges of their machines
Out of greed and ignorance
Our rivers sip from their polluted cups
Like run away slaves feasting on left overs
And our leaders burry the truth
Under the influence of brown envelopes
Our land is being consumed
By their heavy machines like hungry dogs
Hunting for precious minerals
Gold, brighter than sunlight
Glittering diamonds illuminating the earth
Yet bringing light in the pockets of greedy men
Leaving our lands desertificated
Ghana let's come together
And save our mother land from
Submerging into the belly of brown houses
Constructed from the slightest of woods
Greedy men are selling our land
To the cruel hands of galamsey
Let's all come together and combat
This humanly created disease
That is infesting our land to self destruct
A Poem written by; Prince Daniel Asorgba
A form one pupil of DIRSS IMPACT SATELLITES INTERNATIONAL SCHOOLS
Biography;
Prince is a boy of 12 and in JHS one.
He is a product of Dirss Impact Satellites International Schools,
A school located at Pure city a suburb of Gbetsile in the Michel camp area
Nathaniel is under the care of one great poet I once wrote about on this platform
He is in the person of S Kojo Frimpong.When I say under the care,I mean he is thought or trained by S Kojo Frimpong. I will find out more about this school that has brought
up such a genius child to display such tremendous performance in the art of poetry.
Actually this is the kind of schools we will be needing for our wards. And these are the kind of intelligence and talent we want to see our children display. For more info about the school and our students please visit kingkobbyexcel.blogspot.com or simply contact the main pillar behind Dirss Impact schools Mr. Shadrack Amoako on 0241773053