It All Depends On Who Is Doing This "Parity" Assessment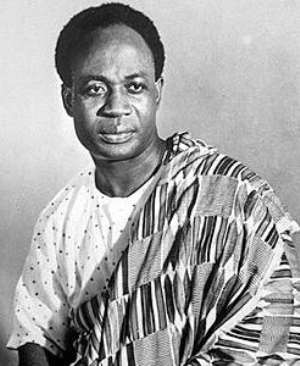 President Addo DankwaAkufo-Addo asserts publicly that he does not intend to repeat the mistakes of President Nkrumah's industrialization policy, and all hell breaks loose in the vacuously pontifical "see-no-evil, hear-no-evil" Nkrumaist camp. That was all to be expected, especially from those who presume it to be their religious obligation or their "call of duty" to prosaically rebut this naked truth, which, by the way, has been there for all to see for ages now. The fact of the matter, though, is that trotting in Singapore and South Korea as a convenient subterfuge for the epic failure of Nkrumah's patently inorganic industrialization program does not get us any farther from or to the reality anywhere. We have already since long dealt with this jaded subject and therefore do not intend to rehash the same herein in toto.
Suffice it to observe, without any fear of contradiction, that there were mistakes on both the part of the grossly misguided Nkrumaists and the equally overenthusiastic and economically Eurocentric Danquahists. But, of course, in terms of economic savviness or foresight, take it or leave it, Nkrumah has absolutely no parity withmuch less superiority over Danquah. Both in the realms of Pan-Africanist politics and economics, Nkrumah was scarcely even a notch above the pathologically pedestrian. And, by the way, what 7-Year Plan is Mr. Yusef Gariba talking about? (See "Re: I Won't Repeat Nkrumah's industrialization Mistakes; Akuffo [sic] Addo" Modernghana.com 12/6/17). I hope the critic has done ample research to discover that, indeed, the so-called 7-year Development Plan was lifted hook, line and sinker from the Russians, and that it had absolutely nothing to it that was organic or cultural relevant to the economic level and conditions in Ghana.
Even more significantly, it bears pointing out the fact that by the eve of the landmark and auspicious overthrow of the Nkrumah-led Convention People's Party (CPP), according to the then-Governor of the Bank of Ghana, Mr. Frimpong-Ansah (See The Vampire State in Africa: The Political Economy of Decline in Ghana, James Currey, 1991), Ghana had gone totally bankrupt. And so Mr. Gariba would do himself and his audience great favor by informing us precisely how and where President Nkrumah would have secured the requisite funding resources to launch the program, let alone sustain the same. What I want to emphatically point out to the hot-air-blowing Akufo-Addo critic is that absolutely no 7-Year Development Plan was ever launched by the CPP regime anywhere in Ghana. And the sooner self-infatuated myth-mongers like Mr. Gariba get off their pontifical hallucinations, the better stead the country stands to benefit from such prompt and salutary cessation of this "Epistemic Galamsey" of systematic and calculated dishonesty that has been sidetracking the rapid development of the country for quite a Methuselah while now.
It is also quite accurate that it is in the field of law or the legal practice that Nana Akufo-Addo has risen head-and-shoulders over and above most of his peers. But, of course, equally true is the fact that with a Bachelor's Degree in Economics from the University of Ghana, the former Attorney-General and Minister of Justice has the same level and/or capacity of knowledge that has afforded former President John Dramani Mahama the authority to call himself a historian of remarkable repute. Yes, Akufo-Addo has a team of crackerjack economic advisers. But contrary to what Mr. Gariba would have the general public believe, Nana Akufo-Addo possesses adequate understanding of the Ghanaian economy not to play the vacuous sounding board or ventriloquist to any maven in this sphere of our national endeavors. He definitely understands more about the economy than can be confidently said of Mr. John Dramani Mahama.
We need to also highlight the fact that the virtually exclusive state control of industries was not the only weakness of Nkrumah's industrialization agenda. More significantly, the problem had to do with building up a technological capacity for which there was a gaping lack of local manpower resources to meet such critical need. In the process, Nkrumah made a veritable farce out of his much ballyhooed Africanization Program. The logical outcome of such grossly misguided economic policy was that a larger market for European technological skills and talents was created in Ghana under the Nkrumah regime than existed during the colonial era. If this was not an inexcusable misplacement of priorities, what else was? But, paradoxically, I must unreservedly agree with Mr. Gariba that President Akufo-Addo needs to harp far less on the wasted past and instead place more emphasis on his own development policy agenda. I am also a student of history, and can bet that Mr. Gariba would do himself much greater favor in critically examining the precise material circumstances that midwifed the industrial development of Singapore and South Korea.
I can bet the preceding had absolutely nothing to do with the landmark overthrow of the Nkrumah regime, but inescapably everything to do with the megalomaniacal and abjectly poor leadership skills of our protagonist. Indeed, had the CPP dictatorship not been overthrown at the time that it was, Ghana would still not have rivalled the enviable success stories of Singapore and South Korea. I mean, you have to critically examine factors like historical circumstances, the general level of literacy and intellectual and cultural awareness and an auspicious sense of a cohesive national identity. We have to look at signal factors like the deleterious and traumatic impact of the slavocolonial experience, and not statistical abstractions like income per capita at a particular moment in time. Such abject and wanton intellectual superficiality is the bane of the present-day Ghanaian politician and critic.
*Visit my blog at: kwameokoampaahoofe.wordpress.com Ghanaffairs