December 7, 2017
|
General News
Upper East Region: Chaos Hit Fumbisi SHS In Builsa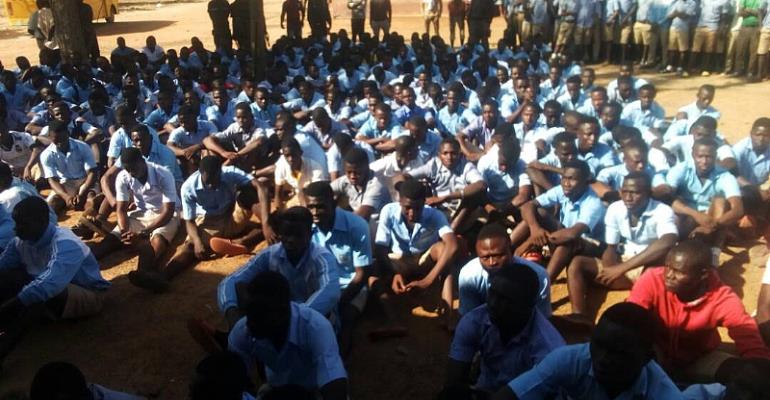 Calm has returned to the Fumbisi Senior High-Agriculture School in the Builsa South District of the Upper East Region following riot by some students on Tuesday, December 5.
The angry students vandalized the school's property, including foodstuff and also chased some tutors out of their bungalows.
The students went on rampage because their supper delayed.
DAILY GUIDE has gathered that their supper was supposed to be ready by 6pm, but delayed for 40 minutes.
They also destroyed louver blades, electrical bulbs, and killed fowls belonging to tutors and Agriculture Department
They injured other students who did not take part in the riot.
In all, a total of 55 students were arrested in connection with the riot.
As at the time of filing the report, 30 students, who were kept at the Fumbisi Police Station, had been granted bail.
They were asked to report to the Police Station every day.
However, some 25 students that were transported to the Chuchuliga Police Station were still in custody.
The headmaster of the school, Francis Adajagsa, said he and other dignitaries met the kitchen staff and agreed on ways to stop the delay of the meals.
He commended to the Police, District Director of Education and Upper East Regional Minister, Rockson Ayine Bukari for their support in addressing the problems.
The Regional Minister, at a meeting with the students, advised them to desist from resorting to violence to address their grievances.
"Violence does not solve problems permanently rather it will waste your time as students and may cut short your education permanently. Do not do this again."
He encouraged them to always use the appropriate channels to address their problems.
The school has started fixing electrical bulbs and other property that were damaged during the riot.
The School's Disciplinary Committee has also started its investigations into the riot.
DAILY GUIDE has gathered that the school's management has resolved that the culprits would be severely punished and made to bear the cost of all the damaged items.