Ghanaian Officialdom Must Stop The Mysterious Kumasi Academy Infectious Disease From Spreading - And Be Candid In All Their Public Utterances On This Very Important Matter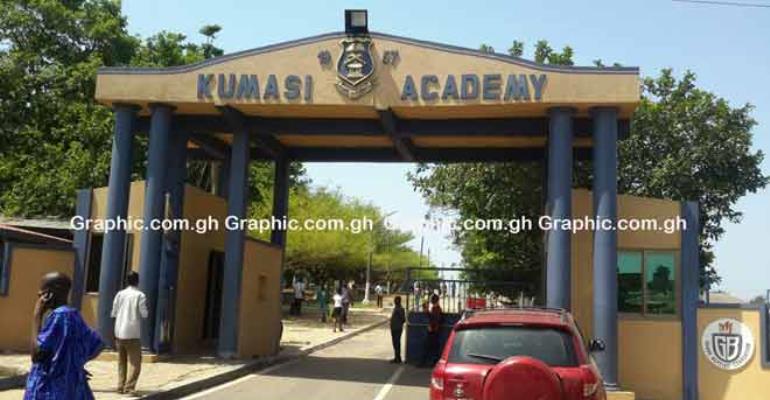 The unfolding tragedy at Kumasi Academy Senior High School, is a matter of national concern - for no responsible adult will fail to empathise with parents undergoing the harrowing experience of being informed of the sudden death of their offspring: whom they only sent off to boarding school so full of life just a few months ago.
This blog sends its condolences to all the bereaved families now grieving at the loss of children who had their whole lives in front of them - and whom they probably assumed would bury them as dutiful adult sons and daughters do when their elderly parents and other blood relatives finally pass away.
Unfortunately, the sad events at Kumasi Academy Senior High School ha not been Ghanaian officialdom's finest hour, alas. It has exposed just how inefficient and negligent most public officials are when the unexpected occurs. Pity.
It is sad that having played such a vital role in assisting the international community to help Liberia, Guinea and Sierra Leone to halt the spread of the Ebola epidemic that destroyed their economies and killed thousands of their citizens in the most agonising of deaths imaginable, Ghana seems totally unprepared for what could evolve into a very serious public health emergency, which could turn our lives upside down and erode the economic gains made thus far.
The question is: What if we are dealing with a disruptive public health emergency similar in scope to that experienced by the citizens of Liberia, Guinea and Sierra Leone? It doesn't bear thinking. Hmm, Oman Ghana - eyeasem o: Asem kesie ebeba debi ankasa.
Those whose responsibility it is to ensure that our nation is not brought to its knees by a fast-spreading and highly-infectious disease, because of a lack of preparedness for such a national public health emergency, ought to sit up - and henceforth dedicate themselves to doing everything possible to ensure that were the worst to occur, the citizenry will as much as is humanly possible be protected from becoming infected, and that our homeland Ghana will also not be allowed to be ruined economically.
And they must be candid in all their public utterances on the matter, above all.
When - not if - a mysterious disease that is highly-infectious and hard to identify, initially, breaks out, ordinary Ghanaians expect the well-paid public officials whose responsibility it is to organise a national response to halt its spread, will do so with despatch, act with some resolve and tackle it with military precision - not indecision and stonewalling to hide their lack of a planned response to just such a situation.
If the tragedy at Kumasi Academy High School eventually turns out to be as serious as the Ebola pandemic that nearly destroyed Liberia, Guinea and Sierra Leone, we will all conclude that it was able to spread so quickly only because of officialdom's lack of a sense of urgency, and the criminal negligence of those who should have had the presence of mind to stop it from spreading, but egregiously failed to do so.
Whiles there is still time to stop this from becoming a pandemic, officialdom must take all the necessary steps needed to stop this apparently mysterious and infectious disease in its tracks, as soon as practicable. Haaba.