December 7, 2017
|
General News
Stakeholders, Justice And Custom Officers Urged To Deepen Fight Against Maritime Terrorism In The Gulf Of Guinea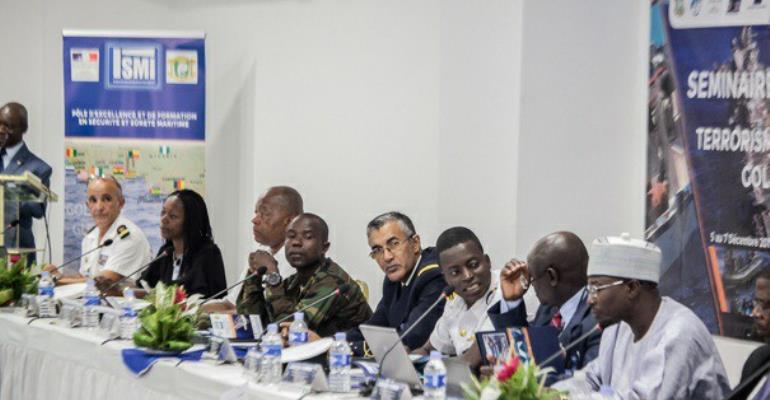 Maritime Stakeholders, and Justice and Custom Service Officers have been urged to form stronger collaboration in the continuous fight against armed robbery in the Gulf of Guinea to allow economies of countries to develop and grow.
Speaking at an opening ceremony of a two day Regional Seminar on Maritime Terrorism held in Abidjan, Mister Karim Coulibaly, Director General of the Regional Academy of Maritime Sciences and Techniques (ARSTM) gave his welcome remarks.
This was followed by several remarks including the Director General of Maritime Affairs and Port Operations of Côte d'Ivoire, the Coordinator of the Regional Program for State Action at Sea (AEM), the Representative of the European Union in Nigeria and the Representative of the European Union in Côte d'Ivoire.
One key statement that runs through all the speeches was the need for a continuous interaction of maritime stakeholders with justice and customs services to tackle the menace.
The areas of expertise of the different stakeholders, regional and international institutions such as ECOWAS, ECCAS and UNODC are indicators of fruitful outcomes to combat maritime terrorism in the Gulf of Guinea.
Combating maritime terrorism in the Gulf of Guinea was the core issue in the remarks which brought about a deeper reflection on the recurring terrorism acts at sea in Africa and mainly in the sahel-saharan belt.
They concluded by urging experts to share the experience and brainstorm on possible strategies to effectively fight this plague that keeps spoiling countries' efforts and hindering the economic growth of the countries in the Gulf of Guinea.
The opening ceremony was chaired by Abroulaya FOFANA, Permanent Secretary of the Inter-ministerial Committee in charge of State Action at Sea and the Representative of Côte d'Ivoire Prime Minister.
About 60 experts from Benin, Mali, Cameroon, Djibouti, Togo, Niger, Ghana, Mauritania, Senegal, Gabon, Equatorial Guinea, Sierra-Léone, Liberia, Congo Brazzaville, Nigeria, Ethiopia and France have attended the regional seminar on maritime terrorism.
The objectives of the seminar is to identify threats and risks linked to maritime terrorism specifically in the Gulf of Guinea and establishes the linkage between on-going terrorism in the Sahel region, and their connection with piracy and armed terrorist organizations.
The seminar will tackle maritime terrorism and look at the legal framework, and existing entities for the sharing of information system and inter-Agencies coordination in the Region.
It will also include a session to brainstorm and make recommendations as part of national strategies, to prevent and fight terrorism in the sub-region.