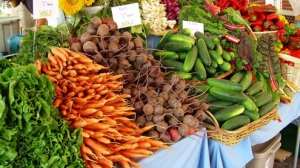 Mr. Munkaila Jawad, the Municipal Director of Agriculture for Dormaa Central, has said a total of 1200 farmers have been registered for the Planting for Food and Jobs (PFFJs) Programme in the Municipality.
He said the number, comprising 897 males and 303 females, is expected to be higher and described the initiative as 'a huge success".
Mr Jawad, who was speaking at a durbar jointly organised by his outfit and the Municipal Assembly to mark the 33rd National Farmers' Day celebration on Friday at Dormaa-Ahenkro in the Brong-Ahafo Region, appealed to the farmers to visit his outfit regularly for advisory services and various packages available to them.
The Director said the government's Planting for Food and Investment Programme covering six identifiable cash crops- cashew, mango, citrus, cocoa, rubber and oil palm is meant to complement the PFFJs programme.
'Each district that decides to plant any one or two of those crops would be expected to come up with a budget that would support between 10,000 to 20,000 farmers who decide to venture into the business to cultivate 10 acres of the crop within the next four years", he said.
Mr Jawad said under the same programme seed banks for high yields would be raised and 100 youth would be recruited and trained to assist the farmers to plant the seedlings.
He said group mappings and data base of farmers would be established for private sector linkages and added that cocoa and cashew has been selected for the Municipality towards the realisation of the government's One District One Factory agenda.
Mr Jawad said under the government's fertiliser subsidy programme, a total of 5,423 Nitrogen, Phosphorous and Potassium (NPK) and 5 Urea fertilisers were allocated to the Municipality for the benefit of 613 farmers consisting of 539 males and 74 female beneficiaries.
He said the Municipal Veterinary Services Office is severely constrained by scarcity of resources and is unable to address some of operational challenges bordering on health.
Mr Jawad called for the establishment of a functional laboratory in Dormaa-Ahenkro to augment the effort being made to promote the poultry industry.
Mr Abu Salifu, a 45 year old farmer from Kofiasua was adjudged the overall best Municipal farmer and had a certificate, tricycle, one piece GTP, four cutlass, a knapsack sprayer, a radio set and four pairs of wellington boots as his prize.
GNA
By Robert Tachie Menson, GNA