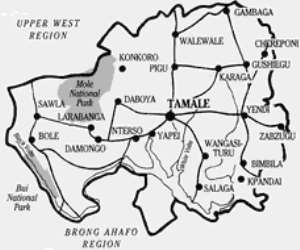 Tamale, July 15, GNA - The International Fund for Agricultural Development (IFAD) and other development partners, under a loan agreement with the government, are providing a total of 50.5 million dollars over the next six years for poverty reduction programmes in the Northern Region.
The programme, which is being implemented by the Northern Region Poverty Reduction Programme,(NORPRED) is financed by an IFAD loan of 12.3 million dollars and contributions of 38.2 million dollars through other financiers.
The government would provide six million dollars through direct disbursements, taxes and duties, while beneficiary communities would contribute 3.2 million cedis.
Alhaji Abu-Bakar Saddiqque Boniface, Northern Regional Minister announced this in a speech read for him at a joint inauguration of the NORPRED Programme Steering Committee, (PSC) and a workshop for members of the committee in Tamale on Thursday.
Participants at the workshop included District Coordinating Directors, Finance Officers of the District Assemblies, representatives of sector departments, NGOs, and community based organisations (CBOs). The overall goal of the NORPRED is to improve the livelihoods and living conditions of poor rural communities with emphasis on women and other vulnerable groups through the provision of potable water, water for livestock, irrigation, sanitation, community access to health and educational facilities among other facilities.
Alhaji Boniface, who is the chairman of the Committee, urged the participants to ensure that all their programmes fall within the context of the Ghana Poverty Reduction Strategy (GPRS) and the Millennium Development Goals.
He said NORPREP would direct extra resources to poorer Area Councils and communities and also ensure that the capacity of all stakeholders in the programme was enhanced through regular training and logistical support.
Alhaji Boniface urged the members to effectively monitor and evaluate the projects under the programme, reminding them that "most projects, though well designed, have suffered due to ineffective monitoring and evaluation".
Mrs. Amama Habib, Human Resource Development Specialist and Mr Mohammed Ahmed, Chief Technical Advisor both members of the Steering Committee, took the participants through capacity building and the different aspects of the programme. Mr Ahmed said projects to be executed in the communities would be determined by the beneficiaries who would be encouraged to actively participate in all the decision-making processes.