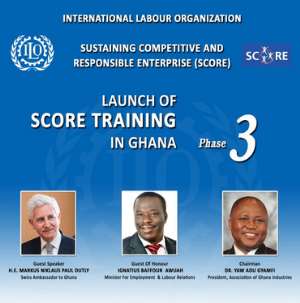 The International Labour Organization (ILO) office in Ghana is set to launch Phase III of its flagship Sustaining Competitive and Responsible Enterprises (SCORE) Programme on 6 December, 2017.
During the successful implementation of Phases I and II, the ILO worked with the Government of Ghana through the Ministry of Employment and Labour Relations (MELR), Score Training Solutions Ghana, Sekondi-Takoradi Chamber of Commerce and Industry, Association of Ghana Industries (AGI), Management Development and Productivity Institute (MDPI), Ghana Hotels Association(GHA) and the Trade Union Congress with a view to embed the SCORE Training methodology in national strategies for enterprise development. Due to the great successes achieved, the donors, in collaboration with the ILO have agreed to continue the global programme into a third phase,andconsolidate the gains across the 11 partner countries.
Since inception in 2011, 48 potential trainers have been trained in the SCORE Training methodology, with 24 certified, and BDS services offered to over 180 enterprises, representing more than 12,800 employees in Ghana.Many of these SMEs have recorded major improvements in their operations, including up to 50% increased productivity, 35% reduction in waste, better workplace cooperation, 27% reduction in defects, 50% reduction in accidents, increased profits and the mainstreamingof gender.
SCORE Ghana is now working with the Skills Development Fund/DANIDA to train Grantees of the Fund in Management, Technical and Vocational Skills through SCORE Training to be able to utilise the grants effectively for increased production and growth.
SCORE Phase III aims to help consolidate the gains in SCORE Training being experienced in Ghana, and to expand in to the Hotel and Tourism Sector, as Ghanahas exhibited the necessary capability to sustain the programme after the exit of the ILO and the Donor Partners.
During Phase III (2017-2021), the global SCORE Programme will operate in China, Indonesia, Viet Nam, Myanmar, India, Ghana, Ethiopia, Tunisia, Colombia, Peru and Bolivia, with funding from the Governments of Switzerland (SECO) and Norway (NORAD), and support from the global team in ILO Headquarters in Geneva and Project Managers in all countries. Under the new phase, ILO will bolster efforts to engage with private sector partners, in a bid to integrate SCORE Training in supplier development strategies.
The official launch will take place at an event under the theme,"Developing SME'S for Employment Generation: The Roles of Government, Private Sector and the Donors".Guest speaker H.E Markus Niklaus Paul Dutly, Swiss Ambassador to Ghana; will join guest of honour, Hon. Ignatius Baffour Awuah, Minister for Employment and Labour Relations, ,at the Holiday Inn Hotel in Airport City, Accra, on 6 December, 2017. Chairman for the event is Dr Yaw Adu Gyamfi, CEO of Danadams Pharmaceutical Company Ltd, AGI President and Chairman of the Alumna of enterprise CEOs trained by SCORE Ghana.
The Minister of Trade and Industry and the Minister of Tourism will participate in the Launch as honourable guests representing the Stakeholders' organizations and make statements to support SCORE Training in Ghana. ILO traditional partners: the Employers and Workers,will be represented by the Ghana Employers' Association (GEA) and the Ghana Trade Union Congress. All enterprises trained during 2016/17 will be issued with their certificates of training by ILO.
The SCORE Programme is a global ILO Development Cooperation projectthat promotes productivity, competitiveness and decent work in emerging economies. The programme assists governments, industry associations and trade unions in Africa, Asia and Latin America to develop export and domestic industrial sectors, with a particular focus on small and medium enterprises (SMEs).
The main intervention is SCORE Training, a practical training and in-factory consulting programme that improves productivity and working conditions in SMEs. SCORE Training demonstrates best international practice in the manufacturing and service sectors and helps SMEs to participate in global supply chains.
The programme also works with governments, employers' and workers' organizations to address key constraints that hamper growth in specific industries and advises partners on best practices in vocational, technical and management skills in the development of SMEs.